I received word from some friends last Thursday that the body of US Airman Joshua Schoenhoff, a young man from Bourbon who died last week, would be escorted home on Friday evening from Lambert Airport. On Friday, I found out that the Bourbon Fire Department would be leading the escort from Lambert to the church in Sullivan. While I did not personally know Joshua, he and his family attended Temple Baptist Church, the church I grew up attending as a child and where my parents still attend. He graduated from Bourbon High School and everyone talked very highly of him and his family. According to news reports, Joshua lost his life last week while trying to save the lives of two of his fellow servicemen who were swept out to sea by a typhoon that struck the coastline of Okinawa, Japan. When I found out that the Sullivan Fire District would be setting up the huge US Flag for the funeral procession to pass under, on the East Overpass, I offered to photograph the procession for the paper. The original arrival time was pushed back a few times due to heavy traffic in the St Louis County area, however Bourbon firefighters kept in touch with Sullivan firefighters and kept them updated on the arrival time. I arrived just ahead of Sullivan and visited with them while they set up the flag on Ladder Truck 852. As Davy Sumpter and Capt Dave Konys were setting up the flag up on the ladder itself, Earl Simmerly of the Bourbon Legion Post walked down with his US Flag to join them….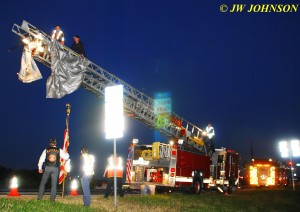 …soon after, the on duty crew from Missouri Baptist EMS showed up too…..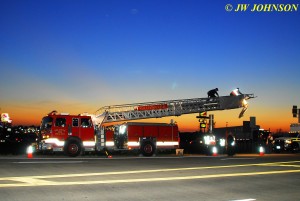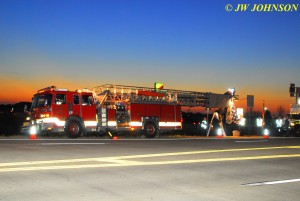 …and about ten minutes later, they had the flag assembled at the tip of the ladder where the remaining firefighters and juniors unfurled the flag….
…so that Nolan could raise the ladder and prepare to swing the flag out over the roadway….
…as the sun was down and the sunset fading away…Dave Konys climbed up the ladder to re-position it properly in the wind….
…..just minutes before the arrival of the funeral escort….
…and the next morning, I heard the police department talking about the funeral escort preparing to depart the church enroute to the cemetery outside of Bourbon. I looked out my front door and observed Sullivan firefighters once again setting up the huge flag display down the street from my home….