Wow the last two weeks have been long and tough, and I`m a bit behind on keeping up here…but Docia and I went to the Park Hills, Missouri Rock and Gem Show the weekend after Kentucky, for our second show this summer. This time we decided to use a trailer to show off our druse and prayed for sunshine once again. This was a Friday, Saturday, and Sunday show and since I was off Wed and Thursday, I took Friday and Saturday off from my work to attend the show. My mom asked if she could go and help, she wanted to see what the rocks shows were like and wanted to see Docia again as well. We got up bright and early both days and headed down there after I loaded up the truck with the flats of smaller rocks and two plastic tubs of the larger crystals all wrapped up in towels. That`s the real work of the show, wrapping them, loading them, and then unloading them and setting the booth up. Now I know what John Cornish goes thru each year at the Denver and Tucson Show, only on a much larger scale there.
Mom and I arrived about five minutes behind Docia and Floyd Friday morning around 8:00 am…and found them busy scurrying around setting their table up and moving things around. After stopping at the gate and visiting with Betty and Lloyd Marler, who do a fantastic job of setting this show up year after year, we drove on down and backed into our parking spot next to Docia and Floyd`s suburban. Floyd helped me set up the tables and unload my truck and then we moved things around some more to allow folks room to move around freely.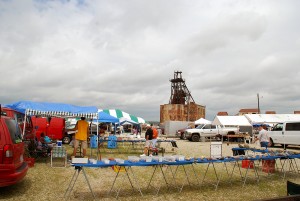 This is the view of the Vendor Area to the east of us with the old Federal Mine on the far side of the area. This booth next to us in the foreground is the guy from Keokuk, Iowa, but he had an assortment of specimens from all over.
This is the Vendor area looking the other way on the other side of us, to the west, am guessing there were probably fifty to sixty vendors there that weekend.
this is the view to the south, and John Beerhalters booth next to the white van, my friend who is an Arkansas Quartz Dealer at Mount Ida….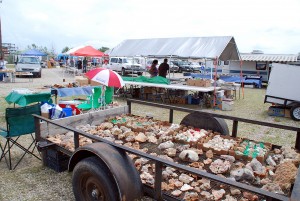 Here is our trailer and booth set up from the back looking to the front…..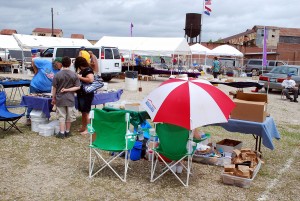 Here is the view from behind of our tables and Docia helping a young man playing the spin the wheel game and win a rock, and my mom sitting under her umbrella….
and here is my mom sitting under her umbrella from the front of our booth space, the trailer behind and Floyd and Docia sitting in the shade of their suburban. We had brought along a canopy tarp tent, but the stakes that came with it wouldn`t hold it down with the wind blowing the way it was Friday.  There were storms forecast to come up that way by 5 pm, but they never did get close to us, we watched the clouds swirl around us all day long. Despite there being little sun that day, Mom and I both got sunburned lightly on our arms and my face.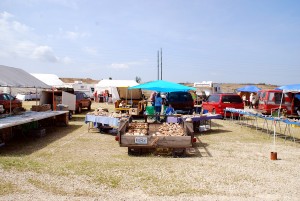 The crowd was light Friday, one bus full of school children from West County School showed up and a few folks from the local area bought a few pieces of druse from us and that was it.  We heard it was gonna be sunny and hot the next day  so Floyd devised a plan for the canopy on Saturday.
We set the trailer out in front prominently this time and put our tables off on either side at an angle so that people wouldnt trip over the trailer hitch and could more easily view all the merchandise. We tied one side of the canopy tarp to our vehicles and then Floyd brought along some heavier duty stakes and we tied the tarp down to those, and they worked much better.  Talk about a nice shady area all day long. Thanks Floyd !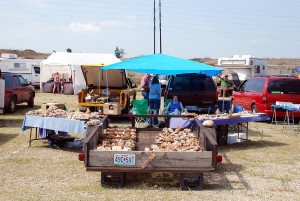 Here is the booth up closer.
Here is my friend John`s booth with large quartz crystals out in front on pallets…some of those babies weighed a couple of hundred pounds apiece…great yard rocks…he always has some beautiful stuff…we got word from my Dad that morning about the tragedy that occurred the night before near Glenwood, Arkansas, which is just south of where John lives in Mt Ida..and an area that I have photographed in the fall seasons in the past few years. Our hearts and prayers go out to those families and rescuers involved.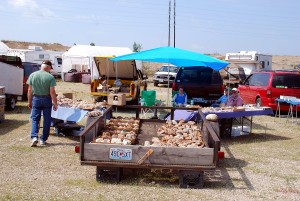 Saturday the crowds were heavy in the morning and cooler hours but by afternoon, the crowds had thinned considerably and little sales were happening anywhere within the vendor area.
This was my table of crystals, druse quartz, calcite and some fluorite from Kentucky.
This was Docia`s eye catcher, a large plate of soda straw druse, and boy did it catch some attention all day long, sparkling in the hot sun…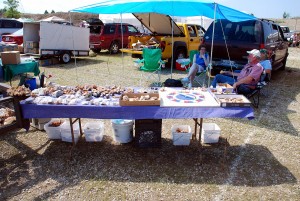 and her table all set up as well.
this was the Christmas Gem Tree she had set up on the table and for sale…very pretty on a nice plate of pretty druse as well. She made several smaller trees as prizes for her spin game and several were won on Saturday. Docia puts together some very pretty gem trees, she is a very gifted and talented gemstone craftswoman.
All in all, we both broke even on this show as well, my big sale coming on Friday and hers on Saturday. We both decided to leave about 4 pm Saturday, after sitting out in the heat all day, we had pretty much had it when we packed up and left. They were over around Caledonia while Mom and I were up around Potosi filling the gas tank when a brief rain storm hit and about ten minutes later, it apparently hit the vendor area pretty hard and fast. Docia got a call from Ed and Sandy, friends of ours from Rolla who were also vendors there, and Sandy said the tents were flying thru the air from the wind of the storm. She said we left just in time.