Well we have had a bit of colder weather recently and a few house fires to keep us a bit busy…as I was driving home this morning from work, my pager started talking about fifteen miles out of town…my department was fighting a cabin on fire at the east edge of our district so I stopped by and took a few photos on my way home….when I walked up, I found the cabin on the ground and Bill Windham on the hoseline….
Bill was standing by while others looked for flames in the dense white smoke lifting up like a soupy gray fog….
and then when a hot spot of flames was found, someone with a hoseline would pounce on it….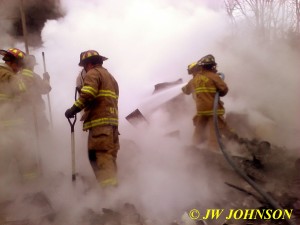 ..as you can see, not much of a structure left at all, lightning strike someone on scene thought….here our guys are enveloped in smoke clouds looking for hot spots…
…and then they found a few hot spots and flame areas in those clouds of smoke at their feet….
…and finding hot spots and dousing them down…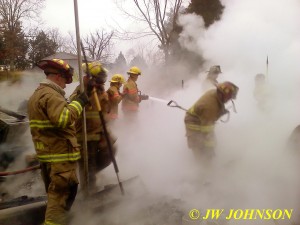 And then we had one just last week a few blocks from my house…discovered by our new waste hauler, Swinger Sanitation of Cuba, who were coming by on their normal pickup route and found the east wall on fire….
Pumper 854 arriving and flames in window by chimney…
Gary and Nolan unraveling the hose load and getting ready to enter…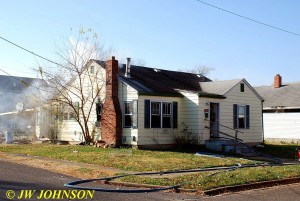 …here smoke vents out the front door and back door too….luckily we contained it to the east wall where it began….