I had just woke up and was getting ready to take Onyx for a run when I heard Greg West on the police scanner, tell SPD that if anyone called in an explosion, it was a blown tire on a tractor trailer just west of Sullivan on the shoulder of eastbound 44 at the 224 mile marker. A few min later he advised the trailer was on fire, flames could be seen underneath it and the driver was about to hit it with a fire extinguisher…a few seconds later and he advised the dispatcher to call the fire department. I grabbed my camera and Onyx and I headed that direction, arriving a few minutes before the fire department did…as we approached on the South Service Road, this is what I observed….
…obvious to me that more than a tire was on fire at this point…the driver separated her tractor from her trailer and pulled forward about 20 yards just in case, and I turned around and parked on the grassy shoulder of the Service Road….luckily traffic was light at that time of the morning….
…and soon after shooting several photos, the fire department arrived….Greg told me  later that six fire extinguishers had been used on the tires and never had any impact on the fire at all…I told him that was normal for burning tires…..
..and soon Ray Enloe was stretching a handline toward the trailer from 854….as Capt Dave Konys had gone up to check out the fire along the trailer and talk to the driver….
…and then Ray packed up while Dave waited patiently…..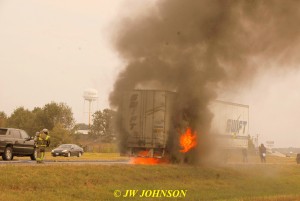 …now I know what you are thinking…you are thinking Ray is taking a long time to get packed up here…but in reality it only took him a few seconds, I was firing off frames pretty fast here…so it just makes him look like his moving at the age of stone….and anyone that has ever tried to pack up fast, knows how hard that can be as well…as he was finishing up and putting on his helmet, Capt Dave started hitting the fire with the stream of water….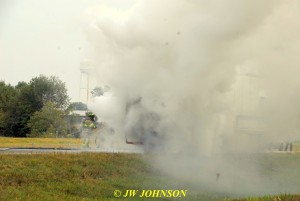 …and soon they have the fire knocked down, and check on the interior trailer load….
…all in all another good save, great work guys !!