I was sitting at home watching tv, on call for work, when I heard the FD get toned out for a tractor trailer fire, westbound I-44 just west of Sullivan. I grabbed my camera and flashgun, and Missy and I headed for the truck. I took the north service road and arrived right behind Pumper 854…they were stretching the attack line as I pulled up in the roadway, and with no one behind me, I took the first few photos from inside the warm cab of my pickup. This was a food service tractor pulling two trailers and the pup trailer had a flat tire on fire, about to extend into the trailer itself….
Cody Martin was on the nozzle once again….
…and had his work cut out for him…tires do not extinguish easily at all….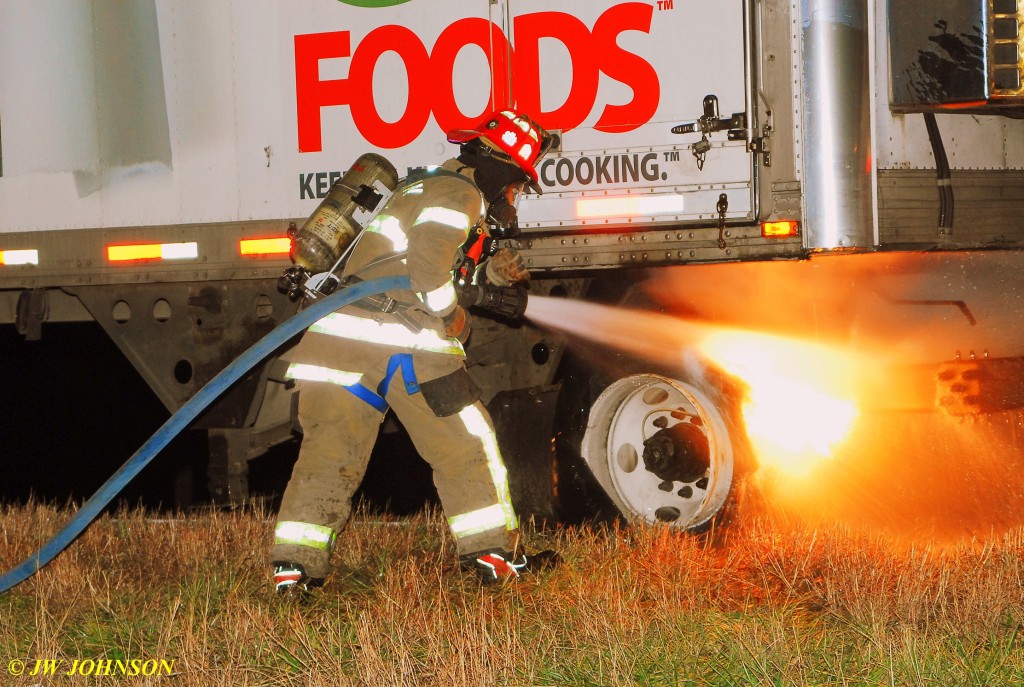 …Cody moved during this next photo and I came out with a ghost image of him still trying to put out that stubborn tire fire…he did a great job keeping it from extending into the floor of the empty trailer and eventually applied enough water to put the fire out….
…a few minutes later, more help showed up from Station One and Bourbon Fire Department arrived as well…by this time I was parked off road and talked to the driver, who told me that the pup trailer was empty and the first trailer was full of Subway sandwich products…he said he apparently had a blowout but did not become aware of it til it caught fire and he saw the flames and pulled over.