The day after digging in my birthday pocket with Docia, I slept in a little and shortly after waking up, we were toned out for a car fire near a residence…I quickly dressed and loaded up Missy and we took off…figuring the full time crew would arrive well before we did since the fire location was just a couple miles north of our Station Five, we drove direct to the scene. It was reported to be well involved, and I could see heavy black smoke from a few miles away. I still hadnt heard our crew go on scene yet and soon I arrived and parked behind Larry, one of our Deputy Chiefs, grabbed my camera and walked up the driveway to see Larry talking to the home and vehicle owner, and his jeep well involved in his driveway about thirty feet from the house….
and…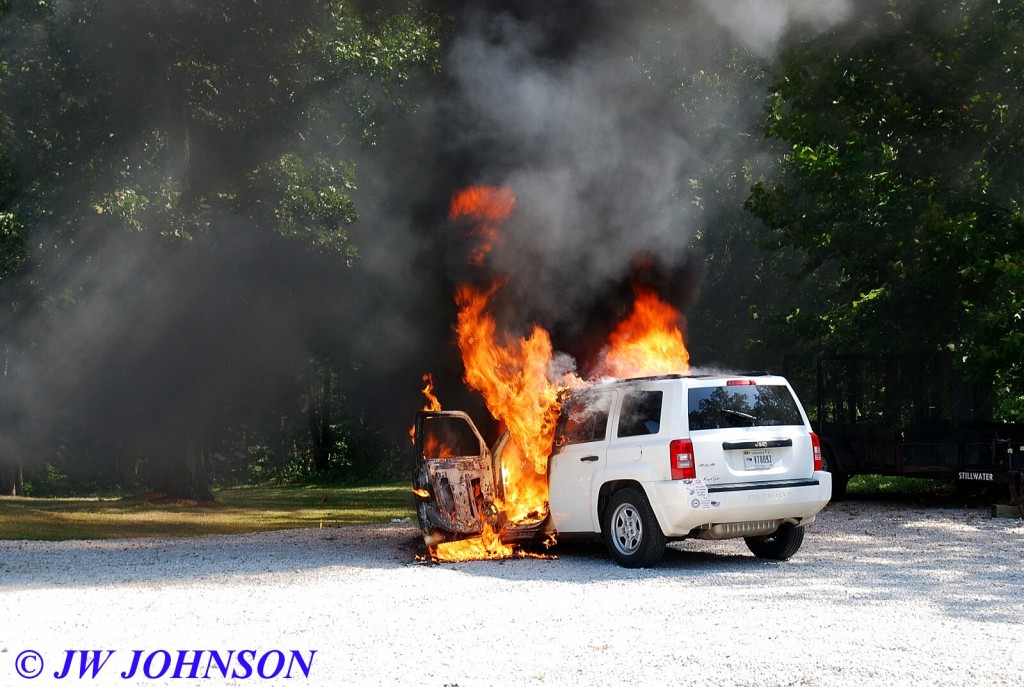 Shortly after, the crew arrived with Pumper 854 and two junior firefighters stretched the preconnect out while the firefighters masked up…here Stetson stretches the hoseline out…and then hands off the line and nozzle to Firefighter Jimmy Smythe…
Jimmy is soon joined by Captain Gary Midyett on the line….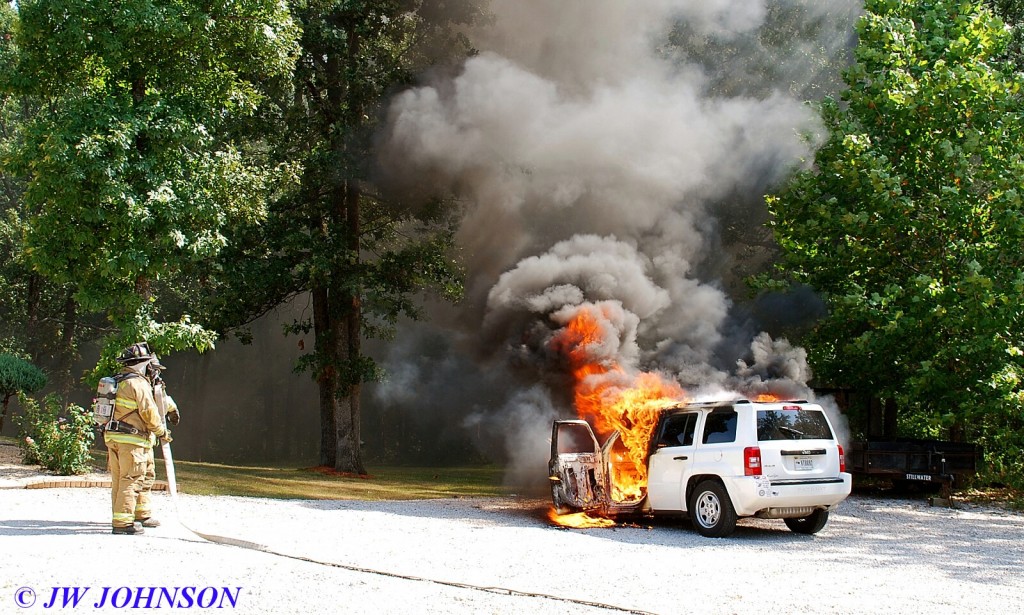 ..and they wait for Engineer Bill to charge the line with water…
..once charged, Jimmy bleeds the air from the hoseline....and he and Gary approach the jeep ….
..and begin their attack…
…quickly hitting the cabin interior floorboard where the base of the fire appears to be strongest…
…and thats when the FIREWORKS begin….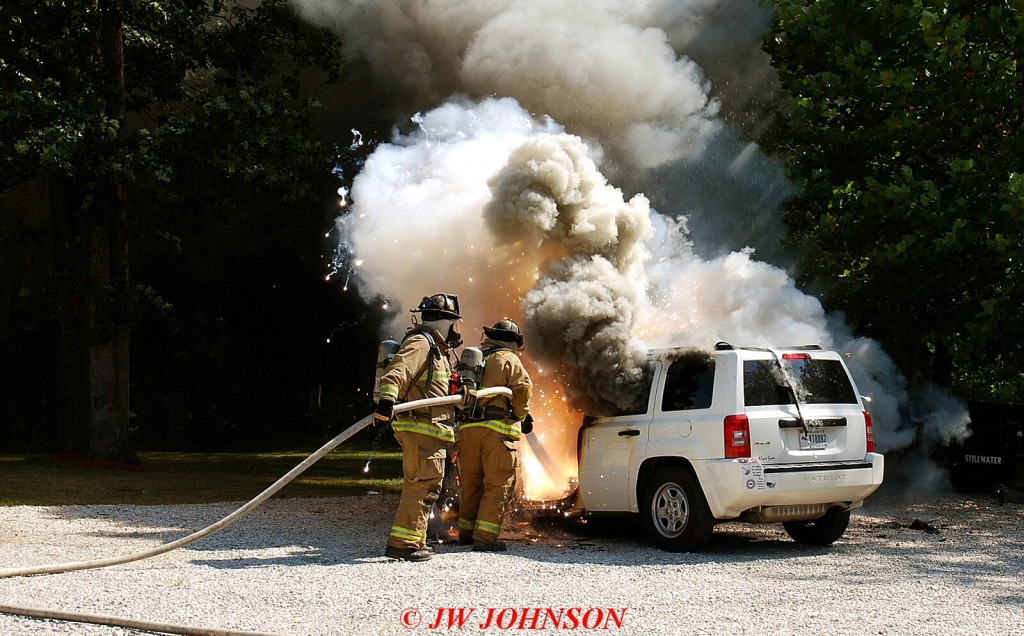 …and Roman Candle type streamers shoot out of the jeep at all angles….
..and continue to erupt from the cabin….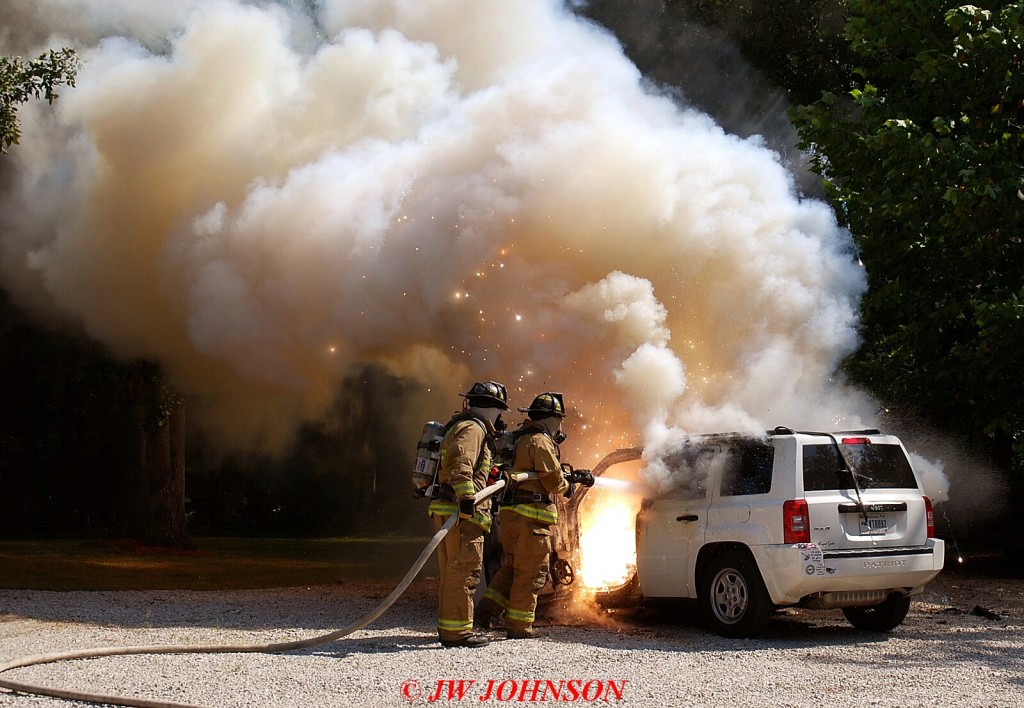 ..and Jimmy gets aggressive and tries a different angle to snuff the flames…
..and gains more control faster….white smoke indicating extinguishment in progress…
..however a return to the front seat door also returns the fireworks when Jimmy delivers water to the front floorboard…
and…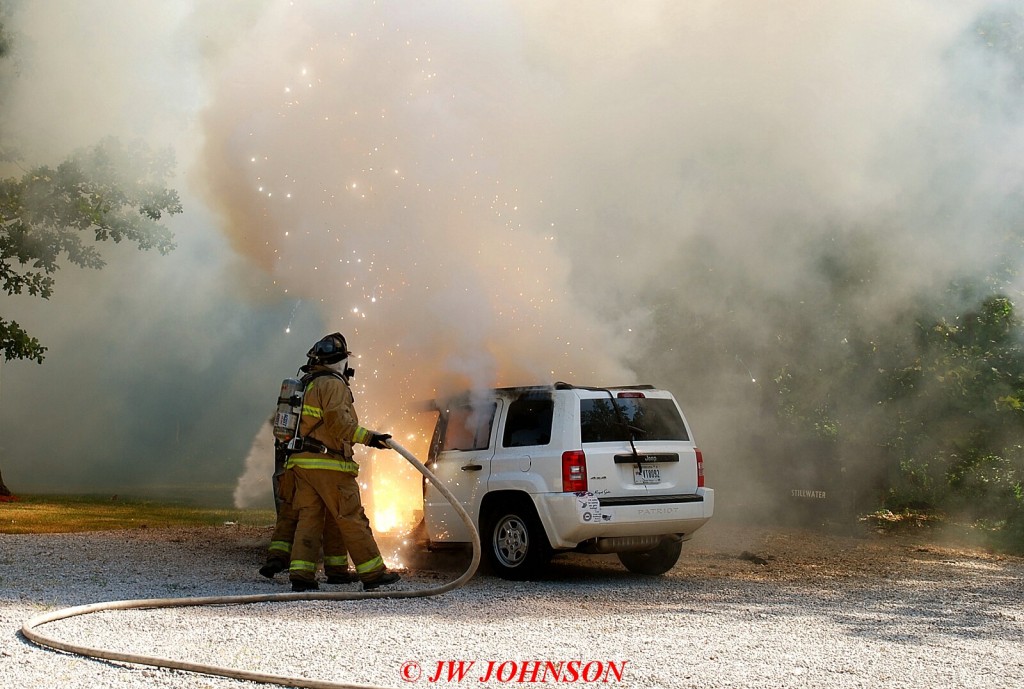 ..where it was later determined that the steering column was made from magnesium, which can violently react with water, resulting in fireworks looking reactions, much of the time.
Soon after this, the fire was brought under control.