My vacation end of June could not arrive fast enough, once again, same feeling I had end of April when my spring vacation approached. My full time job is very stressful much of the time, but things beyond my control, have increased my stress this year over years past. I get another break in August, but it will be shorter, due to even more circumstances beyond my control, code for problems and events in the past few years that prevent some of us from taking additional time off from work. A year ago mid June, I lost my Dad to a massive heart attack, and this year, on the anniversary of that very day he collapsed in the yard, Mom began having problems that prompted a trip to the emergency room of our local MOBAP hospital. Luckily for us, Dr Draper was on duty that evening…he was the attending physician the evening that Dad collapsed and we really liked his bedside manner and attitude…too many times these days, you rarely find a good physician on duty, one you can understand and one that understands you, emergency rooms are often a training ground for new doctors. Last year we found out that Dr Draper is a keeper, with thirty five years of experience, we were delighted to find out that not only did MOBAP keep him on staff, they also promoted him to Chief of Staff in the ER here. Mom had shortness of breath and the evaluating nurse quickly whisked her inside to a room right away and began trying to get to the bottom of it. From the get go, Dr Draper figured it was either pneumonia or congestive heart failure and xrays eventually confirmed it was pneumonia after she was admitted later that evening to the intensive care unit of the hospital. She was hospitalized for a week and then released on the one year anniversary of the day we laid my Dad to rest, scarey timing for my sister and I for a few days there. Later it was determined that Mom had one of the bad pneumonia`s and told it would take at least four weeks before she could go outside, which was fine with her as she barely had the strength to walk up and down the hallway at home. She has had home health care nurses taking care of her daily and they released her today due to the progress she has made with her daily exercises and she can now go outside and attend to her flowers once again as well as go to church services and eat out once again.
I was able to take my vacation and go quartz crystal hunting in Arkansas once again after receiving her blessings, aided by good neighbors checking on her often and my sister staying in touch and visiting her often as well. Onyx and I took off by 7 am on Thursday the 29th and took the shorter route, south on Hwy 63 to Hwy 67 to 440 around Little Rock and then I-30 southwest to Hwy 70 west into Hot Springs. When I was down there in May, I learned that Arkansas highway crews were expanding 70 between Hot Springs and I-30 and had made much progress since we were there then. This time as we entered from the east end, it was obvious that traffic would soon be traveling on four lanes at least ten miles in toward Hot Springs before running into active construction work. Crews were building a few bridges in the middle of the construction area and that was slowing down the progress, but I am sure that by the time we return in November, it should be four lanes of traffic moving thru there. We had to come to a stop a few times thru there for large dumptrucks turning in and out of specific areas, giving me a chance to look at roadcuts looking for quartz veins…while I didn`t see anything in the shale cuts, after mentioning that to Robert Kuhn later on, he told me that is how quartz is often discovered in that area. By the time we arrived at the condo early afternoon Thursday….
….it was already getting very warm outside. I noticed this time, there were no bugs flying all around the doorway and the flowers were in bloom and quite pretty, including all the crepe myrtles at every condo building…
I quickly unpacked the truck and moved everything inside the condo, where I discovered soon after, that my laptop had bit the dust and would not even power up, so I made a trip to Walmart to get a new universal power cord for it, but even that didn`t work, so after a subsequent trip to Walmart to return the cord and replace the laptop with a tablet, I was back in business for email and internet browsing. I soon discovered tho, that I would not be able to load up any of my photos as this was more of a chrome book, not a true tablet. Needless to say, it was replaced as soon as I returned home.
Chuck and his family were set to come down and join me on Saturday evening, so I had contacted Tony to see if we could hunt and dig at his mine on Sunday and Monday, instead of our normal Friday and Saturday. I planned to visit friends and mineral dealers the first couple of days, starting with Johnny B  on Friday morning and then checking on Fisher Mtn Mine once again, which is under the control of Judy`s Crystal Shop these days. I ate a couple of bananas on the way down there and by 2 pm, I was good and hungry, so Onyx and I drove over to the south side of Lake Hamilton, to get some fried catfish and jumbo shrimp at Bubba`s trailer…he was a little busy when we arrived but the wait is always worth it, as well as the price.  I checked in with Mom by phone to let her know we made it down safe and sound and then went to Scoops to get a few quarts of home made ice cream for the next few days of dessert, then settled in to make some contacts and set up some visits for the next two days. We had some great sunsets and a few storms roll through and across the lake while there. The
fireworks display was great again as usual…here are a few highlights from the display over Lake Hamilton Saturday evening…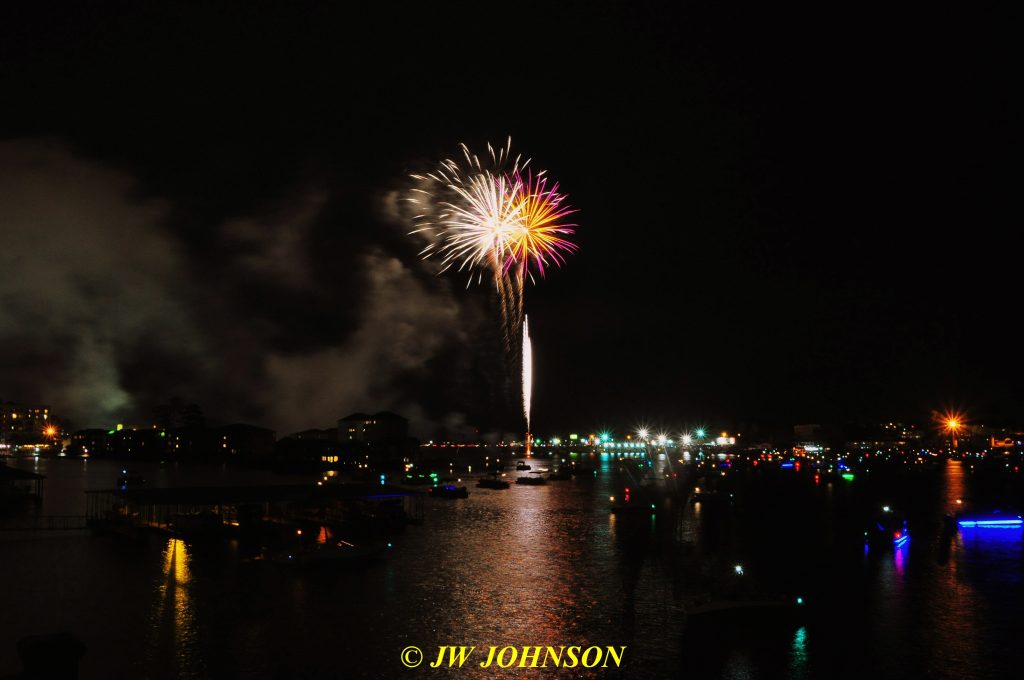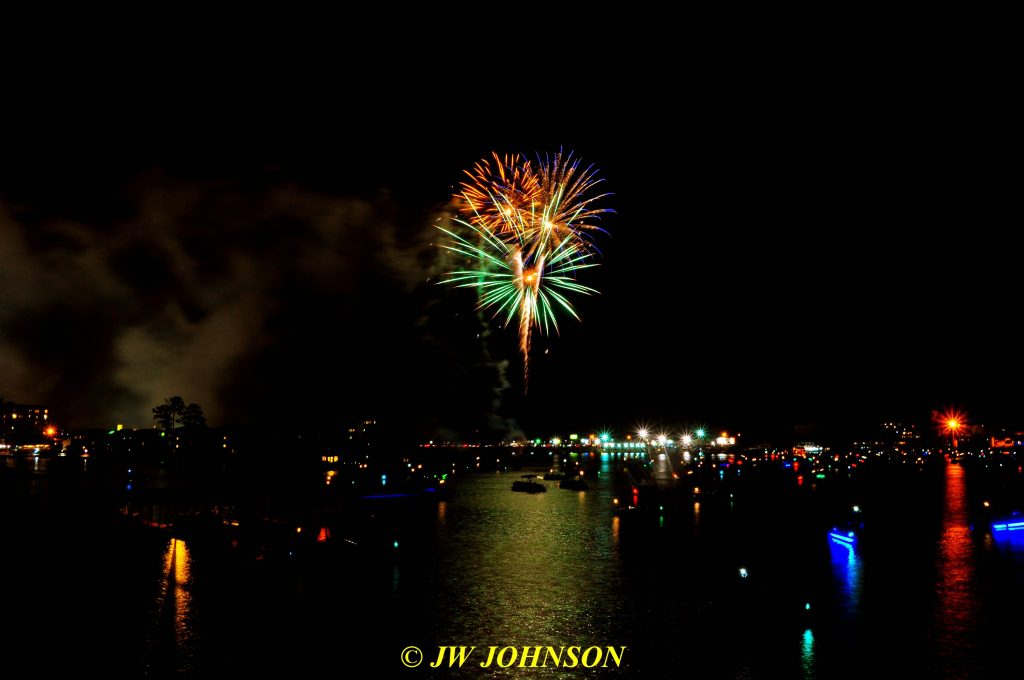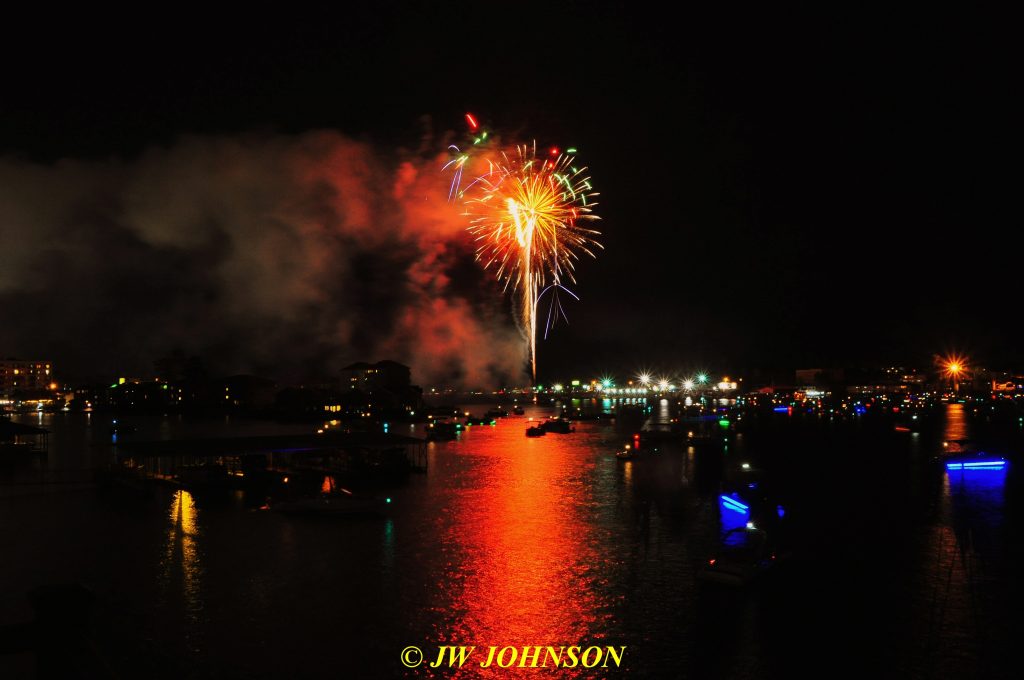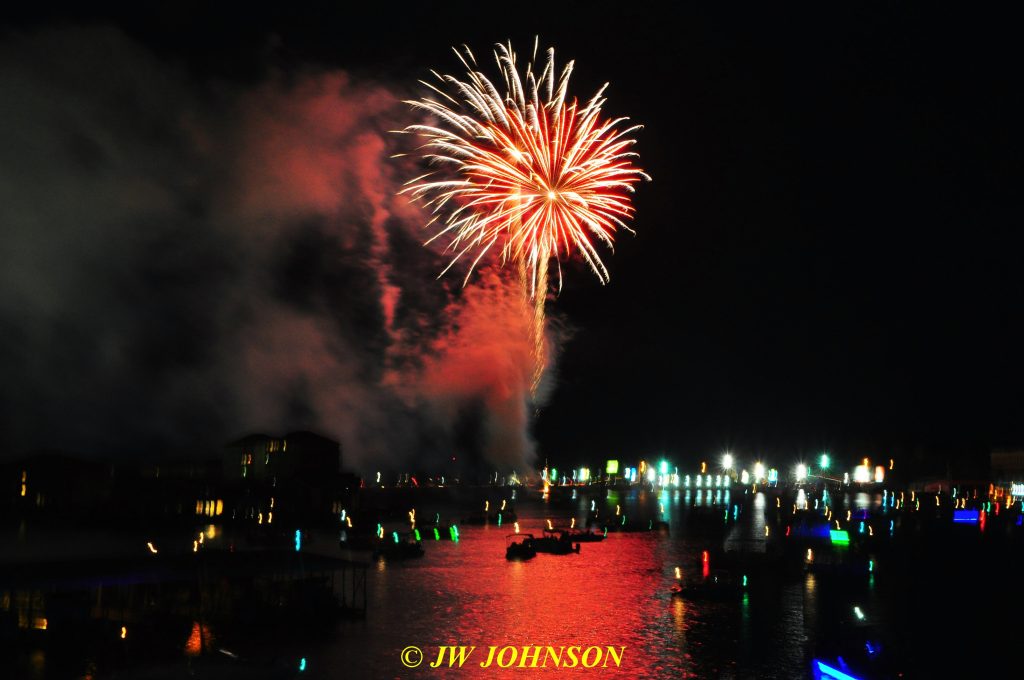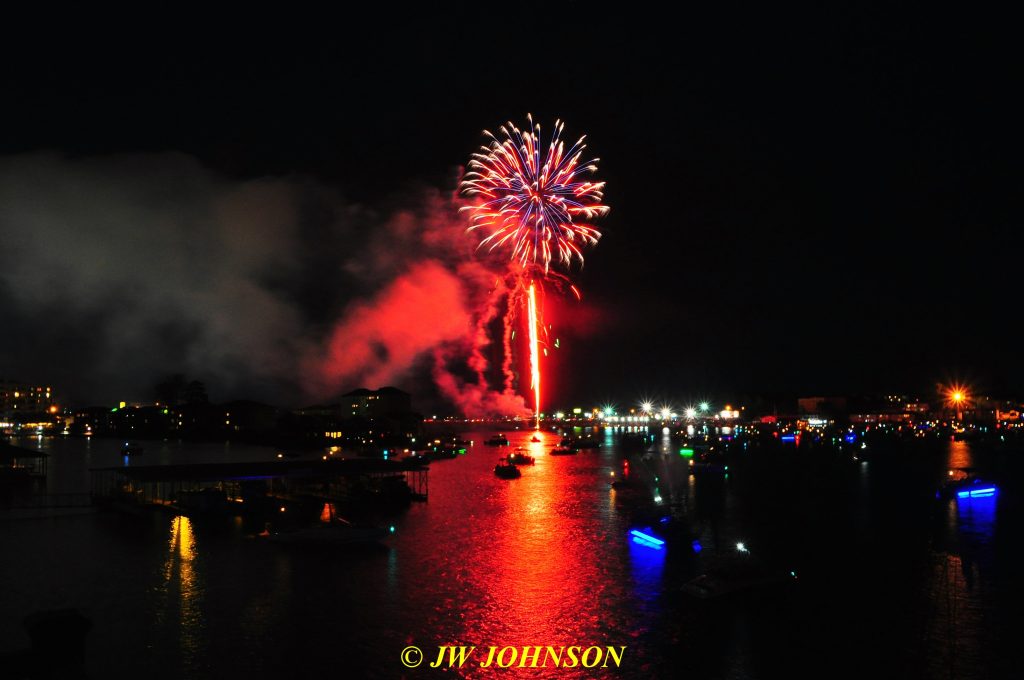 …here are a few more highlights, but for more of my trip to Arkansas in July, go to my other blog site  www.jwjrocks.com  for the rest of the story. 🙂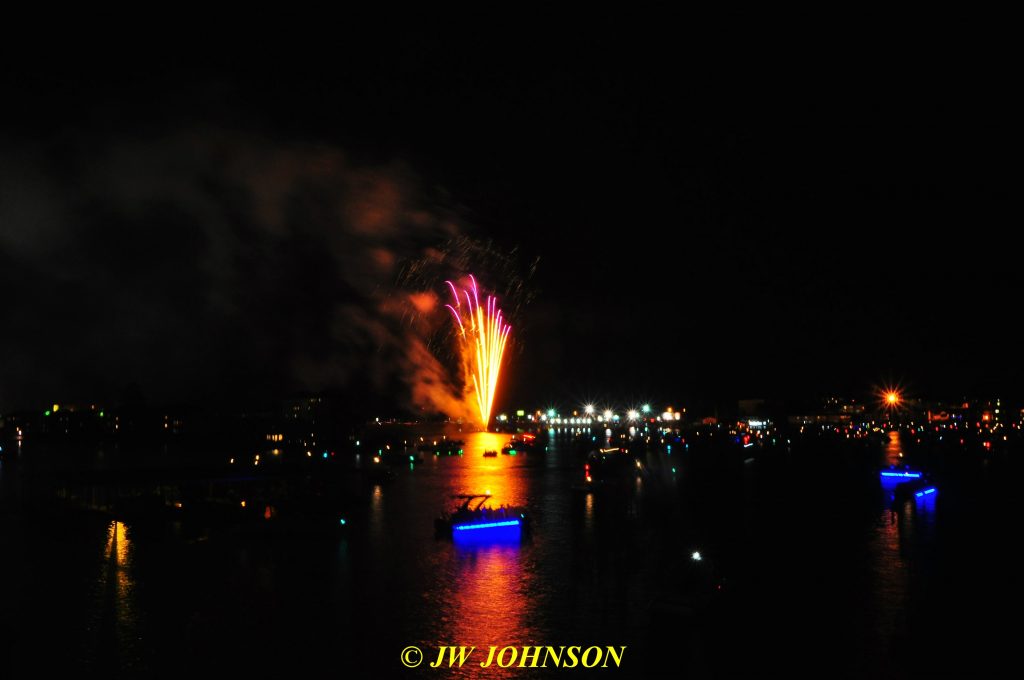 ..sure was a great show, this was the last one before the finale of the show, which I shot all in video…you can see the videos I shot at the fireworks show on my facebook page, here is the link :
https://www.facebook.com/jwjphoto
I enjoyed my vacation, it just didnt last long enough, like normal. 🙂