I usually take the weekend of July 4th off each year so that I can photograph the fireworks, either locally or in the St Louis area. I shot the fireworks both locally and St Louis last year, the first year they moved the Fair St Louis to Forest Park, which ultimately became a cluster putting that many people in that park and the horrendous parking problem, plus the stupidity of the shuttle busses last year, which meant Chris and I had to hoof it all the way back across the park to the truck parked at the Science Center. I decided I wasn`t going thru that bs again, and this year planned to drive down to Hot Springs, Arkansas, for the weekend. My parents wanted to return to Arkansas and visit with family down there, so it worked out well, I was able to take them down there and drop them off at Fort Smith, and then Onyx and I drove on down to Hot Springs for the weekend to photograph fireworks, visit with friends, and do some quartz crystal collecting. We had an uneventful trip down there, Onyx stretching out across Mom`s lap nad the back seat while Dad and I had the front seats. We left about 5 am on Friday morning, July 3rd, and arrived in Fort Smith about 10:30, making good time with a good tail wind pushing us south.
After dropping them off at the Residence Inn, Onyx and I drove over to Sallisaw, Oklahoma so I could visit with my rockhunting buddy Adam Lageveen, who also is a master artisan in creating Native American knives and arrowheads. Adam had some extra quartz that he was willing to give me and was having a yard sale that day as well. He had this huge calcite cluster for sale in the yard sale, self collected from Marble City, Oklahoma….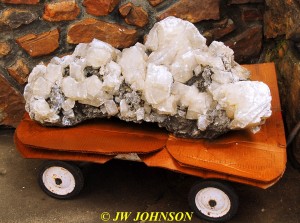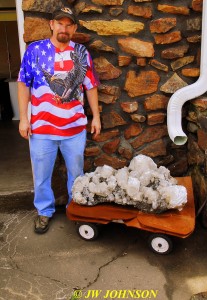 …he will even load it for you and it only costs $ 50…weighs about 200 lbs, too. After wrapping up my selections on the quartz crystals, Onyx and I headed south on Hwy 59 to Spiro, eventually tying into I-541 and then turning south on Hwy 71 at the south side of Fort Smith. South of Sallisaw, we crossed Tenkiller Lake and I could see they had the floodgates open, releasing alot of water from all the rains we have all had lately….
I was going to try and visit with my second cousin Cassieopia, but her plane was running late getting into Fort Smith…about 12 hours late….so we continued on south to Mt Ida. As we drove through, looking ahead I could see some rain clouds, so it was looking like we were going to see some raindrops afterall….
…east of Mt Ida a few miles, there is a neat old barn at the east end of a field on the south side of Hwy 270, always thought that would make some nice photos if the right clouds came along….
Onyx and I arrived in Hot Springs and drove down to the condo I rented for the weekend, on the south side of Lake Hamlton near the Baymont Hotel, and found it as nice as it appeared online, two bedroom and two bath, very comfy furniture and the view wasn`t too bad either. It was a second floor unit and I was able to park underneath it, at the bottom of a steep driveway, which was prob the only drawback to it, but it did provide great exercise for Onyx and I  each day. We were joined later in the day by a couple of friends, Mark and Jerry…Mark is from southern Illinois and Jerry has lived in Hot Springs all his life. Mark and I headed to supper later in the evening, deciding on Colton`s steakhouse, and were were joined by Jerry there. After supper there, we drove to the Kroger Store Parking Lot to check out the fireworks show at Oaklawn Horse Race Track, about half a mile north of there…we were not the only ones in the parking lot, it turned out to be a pretty popular place for fireworks watching….
…the next morning, bright and early, Mark and I drove over to a waterfall that I like to check out when I am there…Onyx and I had gotten up even earlier and I learned from the news that morning that just south of us, over nine inches of rain had fallen…I figured that waterfall might be rolling along pretty good. I had seen it up pretty high a few years back, normally ten feet wide, it was fifteen feet wide that day…today it was more like 25 to 30 feet wide at the top of the falls….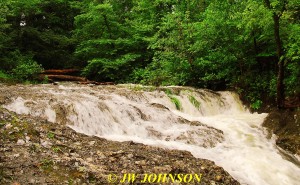 …and the bottom falls were really rolling along since the rock cut prevented the water from spreading out….
….and the creek below was at least forty feet wide….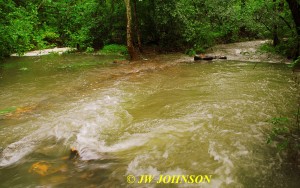 ….I photographed Mark there in and out of the water…he was a brave soul….mainly due to the temperature of the water…he didn`t get into the current itself at all….
…we found some other locations that weren`t under as much water and then Mark headed home by noon, as he had some other plans for later that evening. Onyx and I drove up to visit with Bill and Faith at Blue Moon Crystals, near Mt Ida…they retired from taking care of the Miller Mountain Mine at Jessieville a couple of years ago and are enjoying their retirement now…they are selling quartz crystals at their home, singles, clusters, and baskets…they have nothing but quality crystal there and very good prices for collectors. I spent an hour or so with them, purchasing a couple of quality baskets from them and a couple of clusters from the Collier Creek Mine, which is a private commercial mine, not open to the public, which is known to produce high quality candle points.
After looking over the material that Bill and Faith have from there, I discovered they also have some beautiful clusters and glassbacks too. By the time I left, it was approaching mid afternoon, so I drove over to Mountain Harbor to get some information on where to set up my camera and tripod to photograph the fireworks show there, and ran into the resort owner, Bill. He was gracious enough to give me some good info on where they would be shooting from and good locations to shoot from. I headed back to get a short nap in, tried to call Jerry since he wanted to go with me to photograph the show, and get ready to go. Unable to reach him. I decided to head up to the dining lodge at Mtn Harbor and get some supper there before the show…its a popular place and they have great food there. I left Onyx in the ac in the truck, and walked inside, to find the place packed to the rafters. I didn`t mind since the food is well worth the wait, and only had to wait about fifteen minutes for a table to open up.
After a great meal there of hand breaded chicken strips with bbq sauce, steamed veggies, and their handmade baked potato salad, I checked on Onyx and then headed toward the Marina to find a spot to photograph the show from. I stopped and talked to a couple of security guards before heading down the hill, about how to best go about getting out of there after the show, due to the large crowd there already. They told me that if I didn`t get back to my truck very fast, the best thing to do was wait about 20 minutes for the traffic jam to ease off and said there would be security personnel at each intersection on the way out. One of the guards said he was going to remain near the Lodge and would keep an eye on my truck when I told him I had left it running and the ac on for Onyx. They are a very dog friendly place there and I really appreciated that right then. I walked on down and decided to set up under some pine trees between the ramp and the marina, as the crowd on the marina looked pretty heavy and I was told later that was mosquito heaven anyway…some nice folks from Hot Springs set up next to me and provided me with some Deep Off spray too. They also told me that they preferred the fireworks show there at Mtn Harbor over the one in Hot Springs, which I thought was unusual, since I had photographed the one in Hot Springs a few years ago and found it to be as nice as the ones at the Arch in St Louis each year. We had a huge thunderhead above the lake and the sun set very nicely around it as the boats were beginning to gather out in the water….
…Bill had told me earlier in the day that the large fireboat that they now have, would be going out into the marina and standing by as well….he wasn`t wrong, just before the sunset, I saw the firefighters take all three of the fireboats out into the bay….here is the lightened up version….the large fireboat is on the left side, retired Coast Guard Cutter….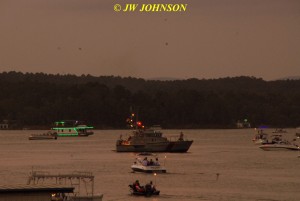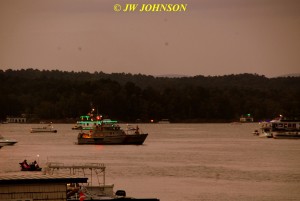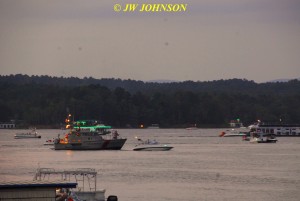 …and while we were all waiting for full darkness to set in, there were some campers on the far side of the lake that entertained us with some smaller fireworks bursts….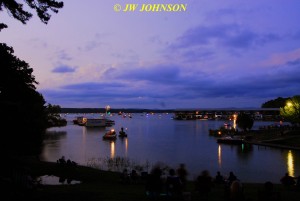 …there was also some guy on the ramp that had a huge toy airplane, one of those remote controlled ones…but this one was lit up in neon bright lights along the wings and the nose of the plane…I have never seen one lit up like that…the only way you can see it in the next few photos is the multi colored streak in the images….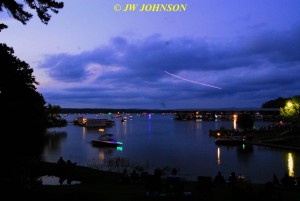 …he was flying that thing all over the place, across in front of us, then up high, then nosediving down toward the water and combined with the smalltime fireworks show on the island across the lake, it was quite a nice show for us…and well received by all….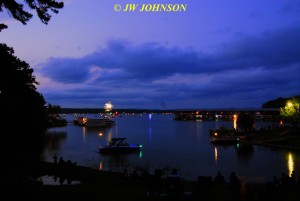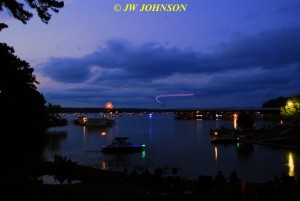 …I was shooting time exposures, that is why you only see a streak of it…about ten minutes later the show finally started with wagon wheel bursts….well worth the wait too….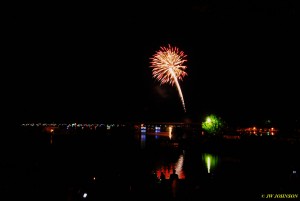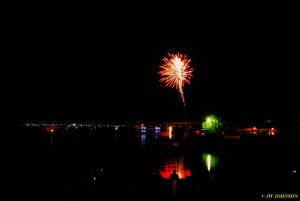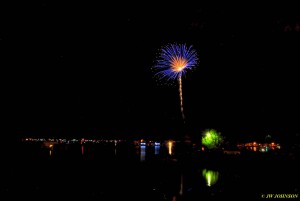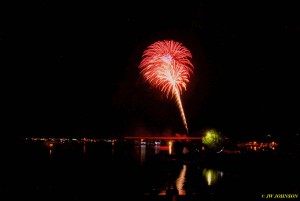 …and then the finale began…because they were only shooting two or three at a time, they shot the finale in waves of several….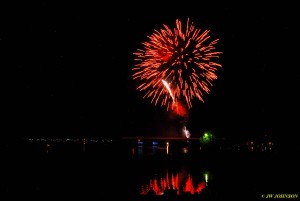 …I was able to get back up to my truck pretty quickly so I decided to get on out of there and made it out ahead of much of the crowd, thanking the guys directing traffic at every opportunity, too. Onyx and I made it back to the condo in about 30 minutes and had some homemade ice cream before hitting the hay.
We got up early the next morning and headed up to Twin Creek Mine, arriving right after the gate opened up…I visited with owner Bobby Fecho for a few minutes and then parked in the shady spot that he offered due to having Onxy with me, got my boots on and grabbed my tools and a bag, and headed to the spot that he had recommended that I dig in. True to his word, there were crystals all over the place and I had a bag full in just a few hours.
I also got to meet his new wife and partner, Miss Dixie Fecho, when she arrived about 10 am, and found her to be a very pleasant person to talk to…she is also a USMC veteran, having served a few years and seen plenty of action in quite a few countries. As noon quickly approached, the heat began multiplying and I started slowing way down, the humidity was growing as well…I decided to check out the wall and along it, I discovered another rockhound not only from Missouri, but from Crestwood in St Louis County, and one that knew a few of the firefighters that I dispatch at work. Matt said he also knew one of my Captains with Shrewsbury Fire Department and we talked about that for a bit while he opened up a nice pocket along the sandstone wall and pulled out some beautiful crystals. I took a photo of Matt working the wall to the right in the photo below….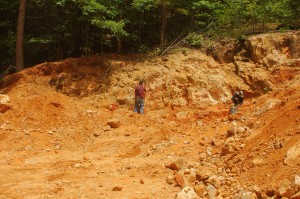 …the same wall that Bobby had worked over a few months ago with a gadpry bar while filming a video showing folks how to open up pockets along the wall with one of those bars…there is a U tube video online of him working that same area of the wall and liberating some beauties too. Onyx and I returned to the condo and waited for a friend of mine to come down and visit from Little Rock the rest of the afternoon…he had just graduated from massage school and tried out his techniques on me, and I can safely say that he is very good at it, one of the best massages I have had in a very long time. He and I had supper later on at the Hibachi Sun Sushi Restaurant across from the mall in Hot Springs and the food and service there were great…no, I did not have any sushi…I`m not a fan of it. 🙂
After finishing off the homemade ice cream, Onxy and I retired for the night to get up early the next morning and make the drive home…picking up Mom and Dad at the Residence Inn in Fort Smith a couple of hours later.  Other than a guy trying to join me in my lane and my spot in the lane, on Hwy 71 around Jane, Missouri, the drive home was again uneventful and we arrived home mid afternoon, after stopping off at Bandana`s BBQ in Lebanon for lunch. All in all, another great trip and I brought home a couple of hundred pounds of quartz crystals too. I felt like I lost another five lbs down there, walking Onyx up and down that steep hilly driveway and climbing the staircase going up to the condo a few times a day…who needed an exercise bike when you have a stairmaster like that ??
James 🙂    jwjphoto7@gmail.com