I was cleaning several crystals Thursday evening that I collected in Arkansas earlier this week, when I heard the tones drop for Bourbon and Cuba Fire Departments to respond to a Commercial Structure Fire at 246 Hwy P…not sure where that was located, I looked it up on google earth maps and saw that it was the Econo Lodge Motel on the North Service Road right below Pizza Hut in Cuba. I decided to wait and listen for the size-up once firefighters arrived on scene, figuring it wouldn`t take Cuba long to arrive, the dispatcher had advised smoke from the ceiling. Cuba`s first truck arrived a few minutes later and immediately called for a 2nd Alarm, which would bring Sullivan`s Ladder Truck 852 and several other departments. Onyx and I quickly got on the road with my cameras and flashgun, as I approached the Leasburg Overpass and topped the hill, I saw heavy smoke in the distance…when I topped the hill at the Hwy UU Overpass, I saw a large orange glow and heavy smoke. I had let Jim Bartle know I was on the way up there and he was glad to hear that, as he was locked down in a meeting and unable to go. I called him when I passed the UU Overpass and as I topped the little hill just east of the Cuba Overpass, I let him know that the entire east wing and office area was fully involved, heavy fire through the roof of the east wing. I parked at the Commuter Lot and secured Onyx, took both cameras and put on my traffic vest and walked down toward the motel…I could see Cuba`s Ladder Truck parked on the west side of the east wing and the ladder was up and they were spraying water down into the flames from above…I stopped and shot a brief video…Sullivan`s Ladder Truck 852 passed by me as I was shooting… and then I walked on down to the scene. I noticed 852 was now positioned on the east side of the east wing and the ladder was being raised. 
I stopped to shoot another video at the entrance ramp up into the motel and stopped briefly to talk to a Highway Patrol Trooper on scene assisting with traffic…he asked how I was doing and we talked a few minutes about the weather, luckily it was only 40 degrees that evening and how ten degrees less could have been a disaster for the firefighters with everything freezing up and making everything more hazardous. I then walked east along the edge of the Service Road and took a few initial photos of the heavy fire thru the roof of the east wing and office area….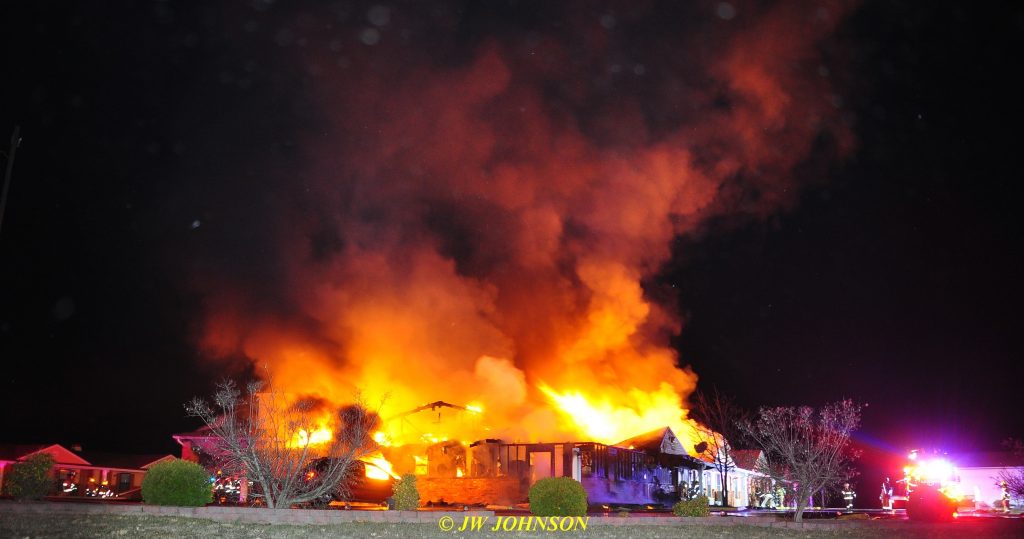 I stayed in this spot for a few minutes before moving over to an area closer to 852 and noticed that very little water was flowing on this side, no water from the Ladder Pipe, yet Cuba`s Ladder Pipe was flowing the whole time…I found out later that a problem developed with a Cuba pumper that was supplying water thru large diameter supply lines from the hydrant in the Pizza Hut Parking Lot…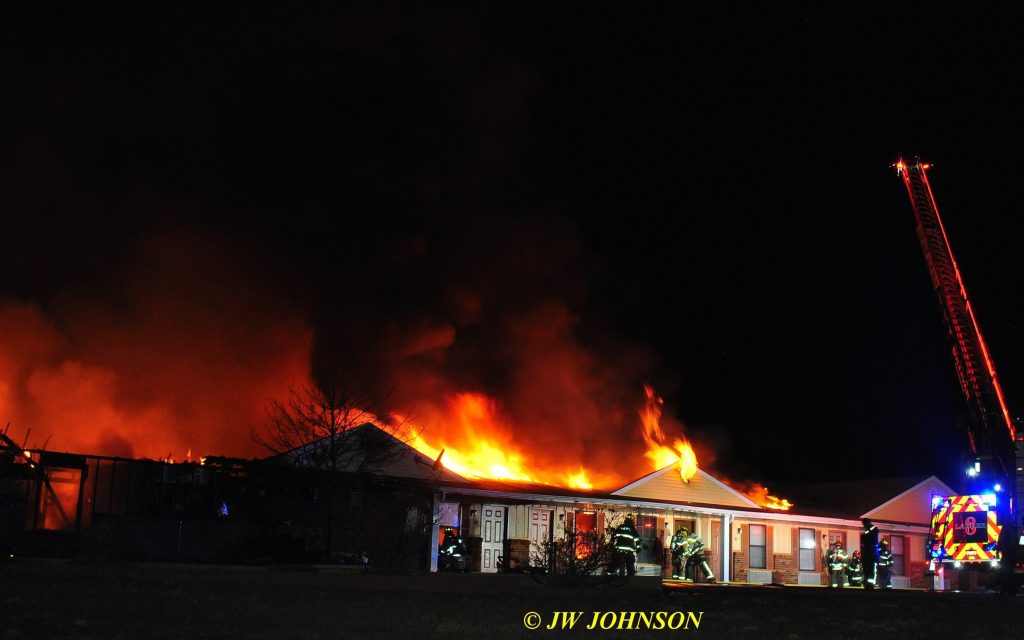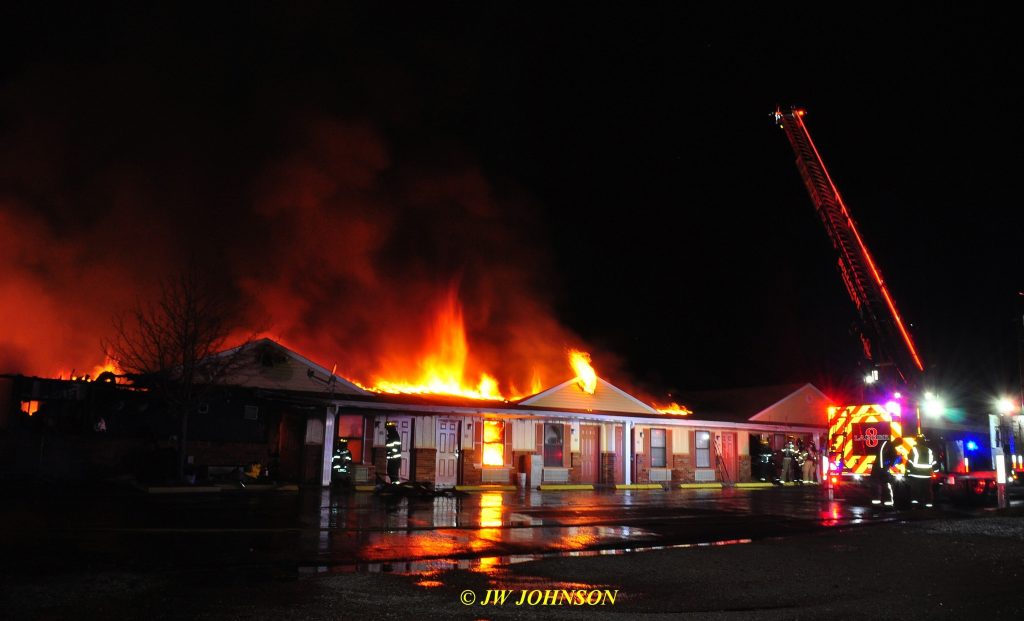 ….the pump stopped flowing water to the supply lines and Sullivan Pumper 814 was tasked with taking over water supply once they arrived on scene a few minutes later…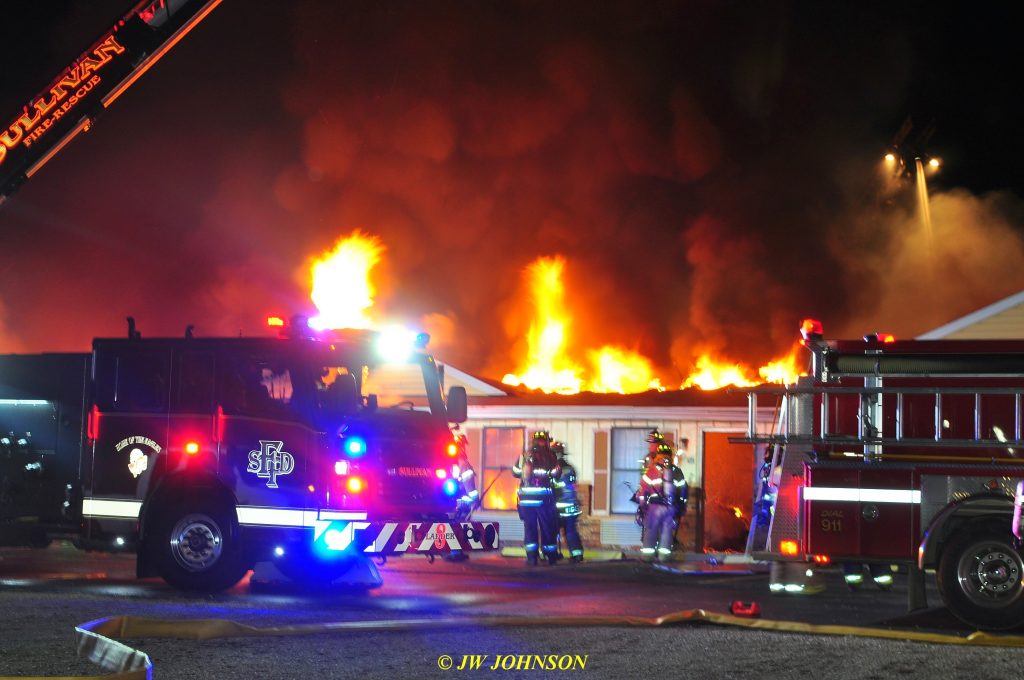 The next couple of photos I had to shoot a slower shutter speed to get the depth of field I wanted, so between the firefighters moving in action and the flames moving naturally, the photos look out of focus…I personally like that effect as it shows action…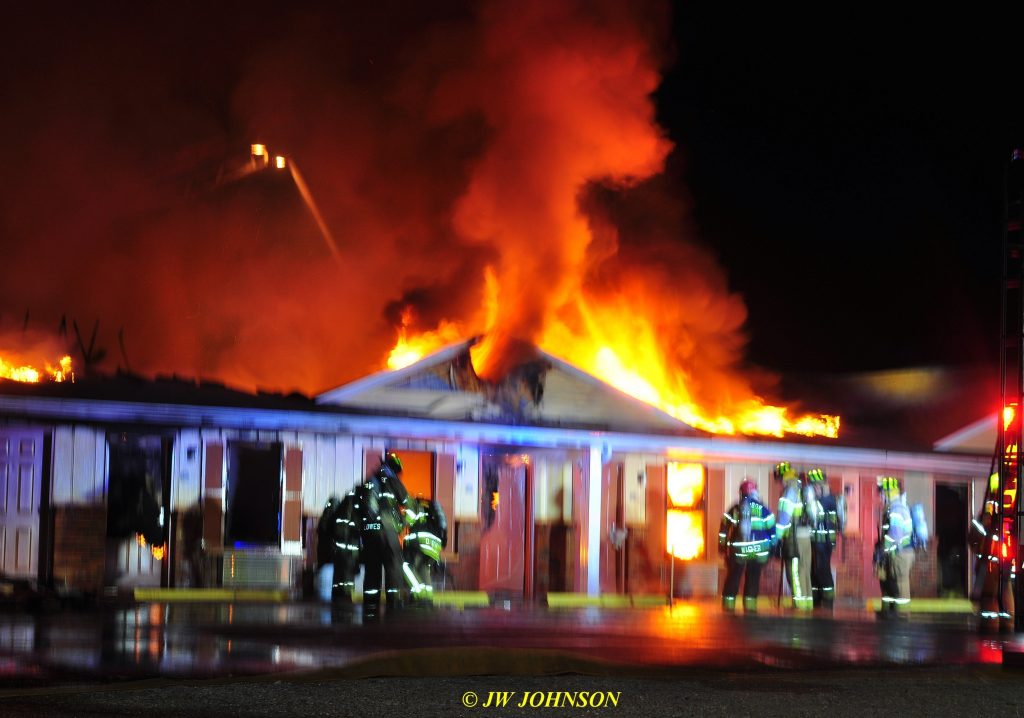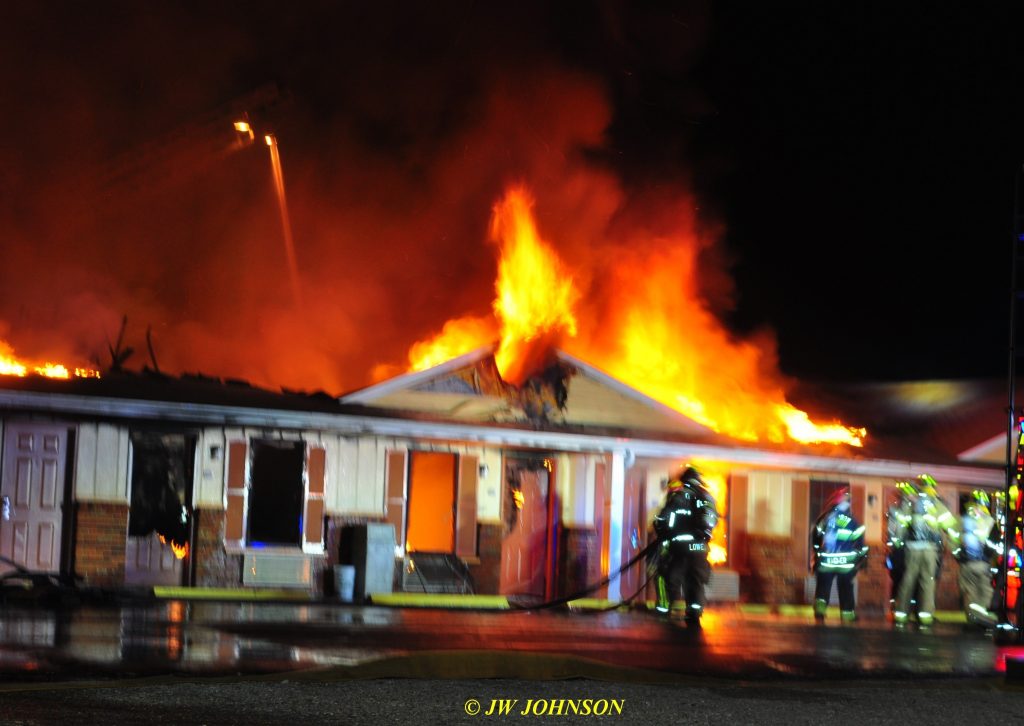 …..I was shooting another video when I heard 814 approaching…the Q siren on the front bumper was screaming at full tilt and I would know that siren anywhere…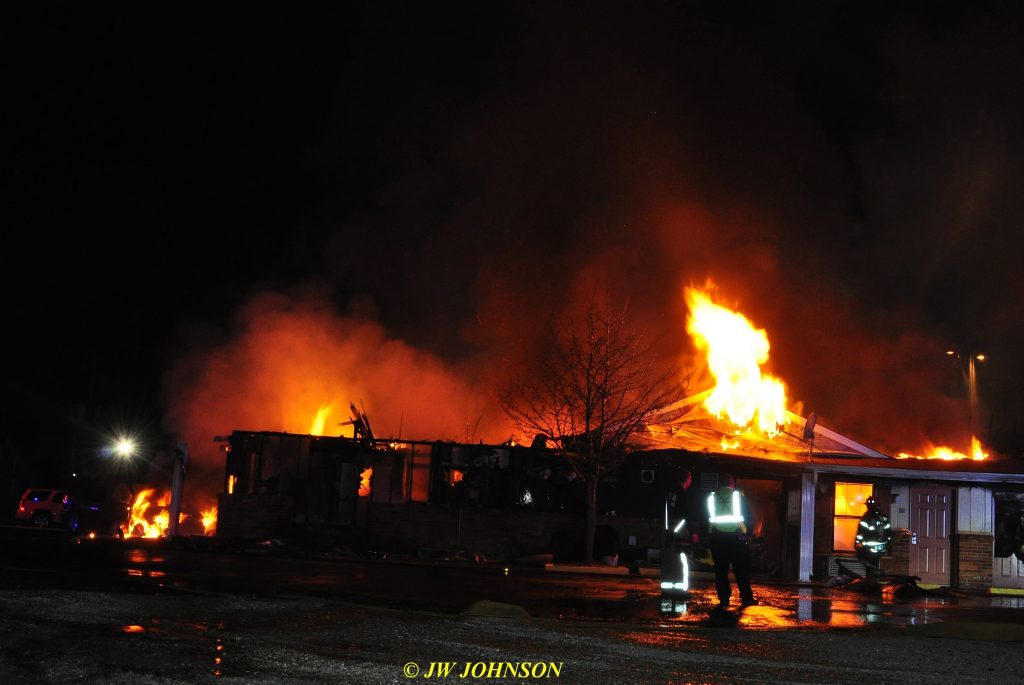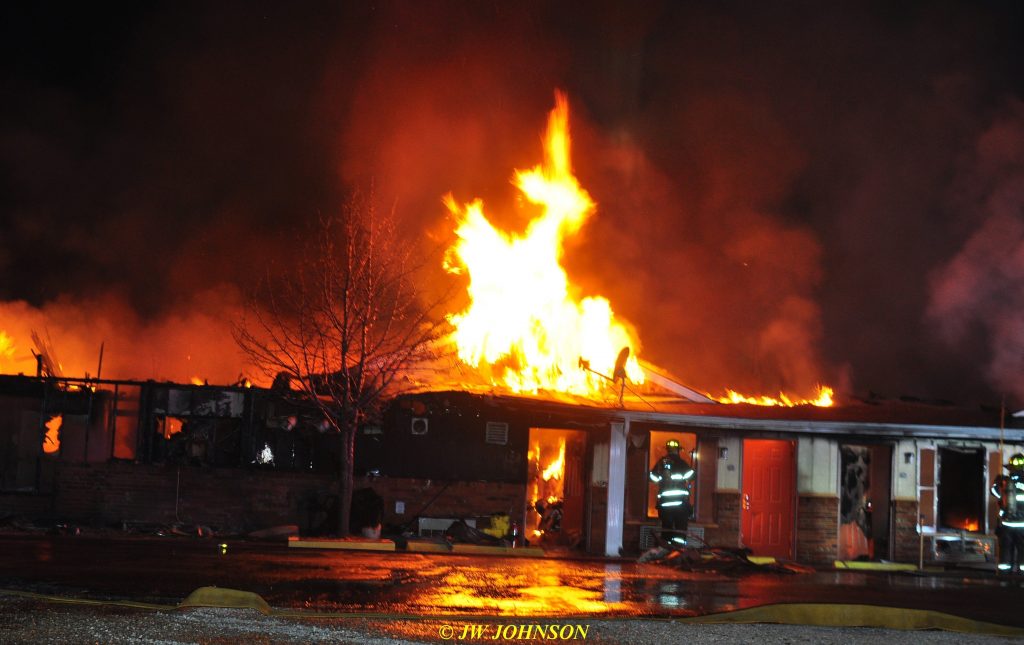 …..as soon as they arrived, Command apparently made the plan to have firefighters manning hoselines and going from unit to unit along the east side of the wing and knocking down the fire…then the Ladder Truck Pipes would attack from above and add the knockout punch to the fires below….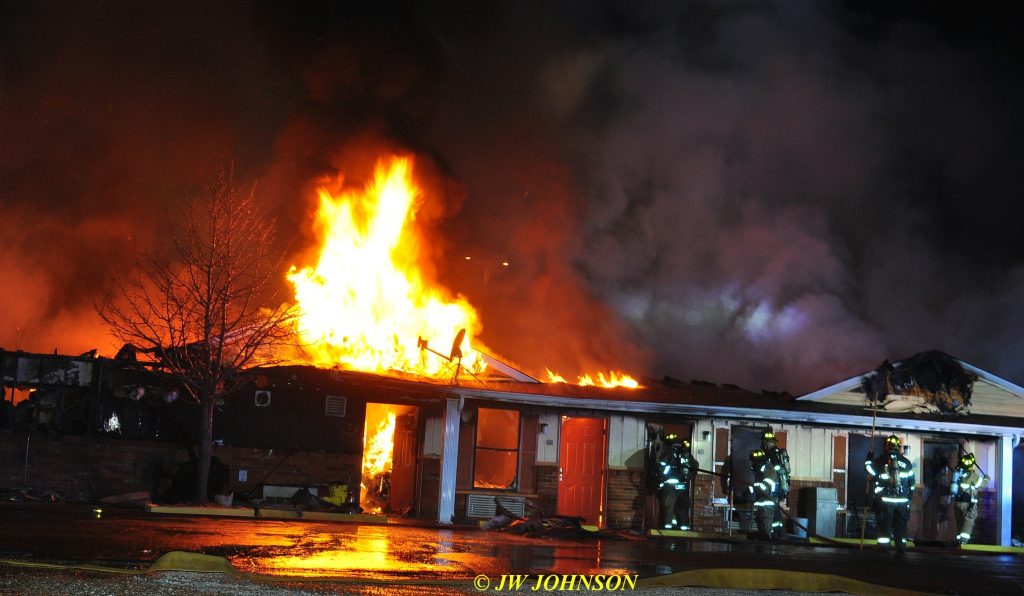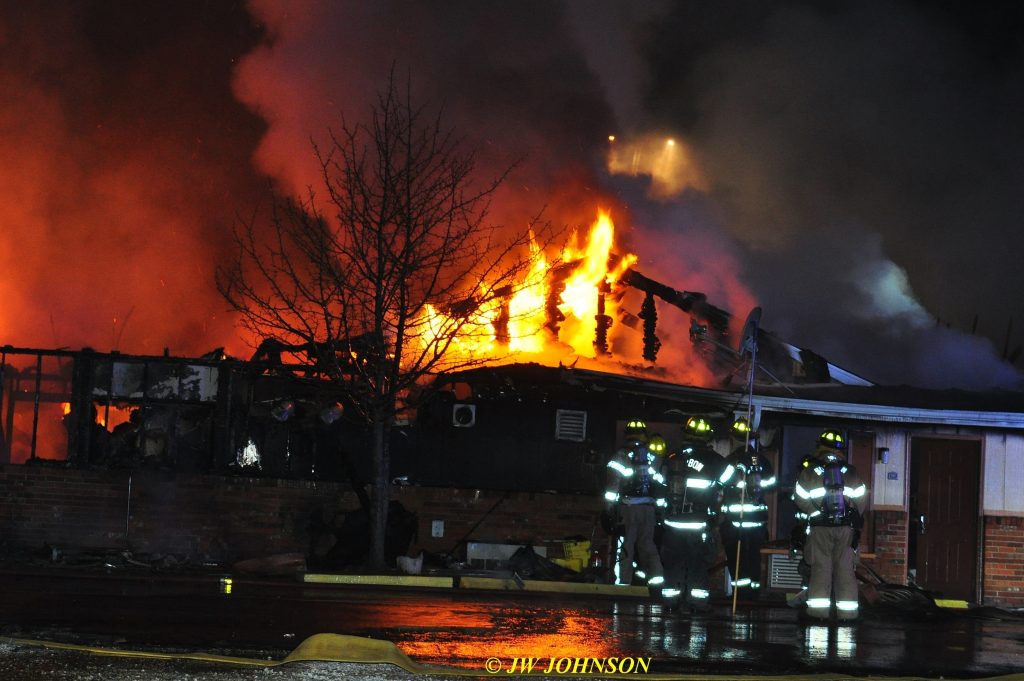 I decided to walk back around and check out the increasing glow over the office area, it appeared to be on fire once again….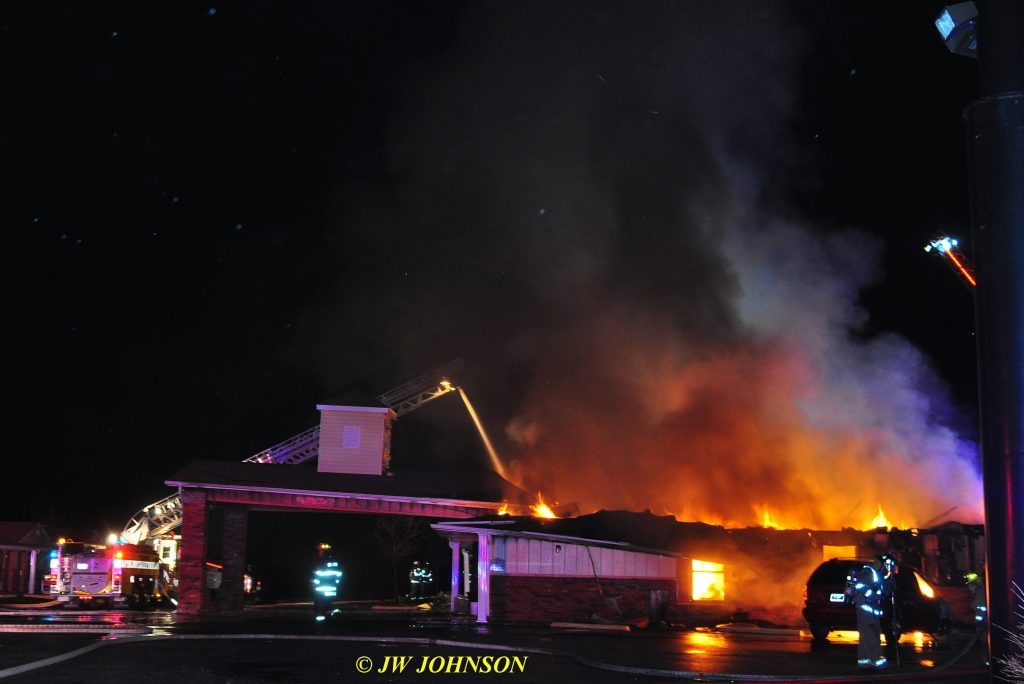 …and for a few minutes, I was thinking Cuba had their hands full trying to knock this huge amount of fire down with just their Ladder Pipe, but then Sullivan`s Ladder Pipe became operational and assisted in knocking it back down once and for all….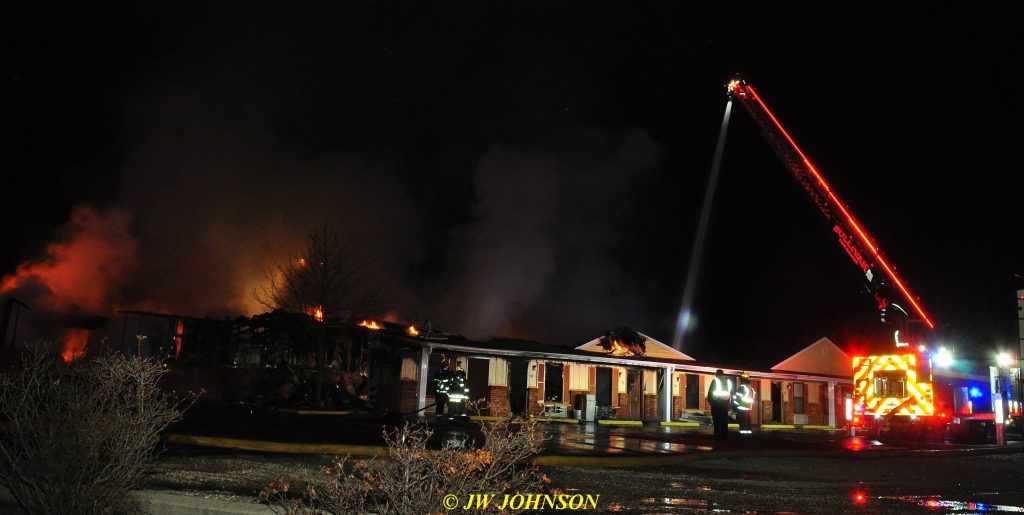 I have no idea what was in that office area, but it sure did not want to go out, kept coming back again and again….
…and then I returned to the east side again….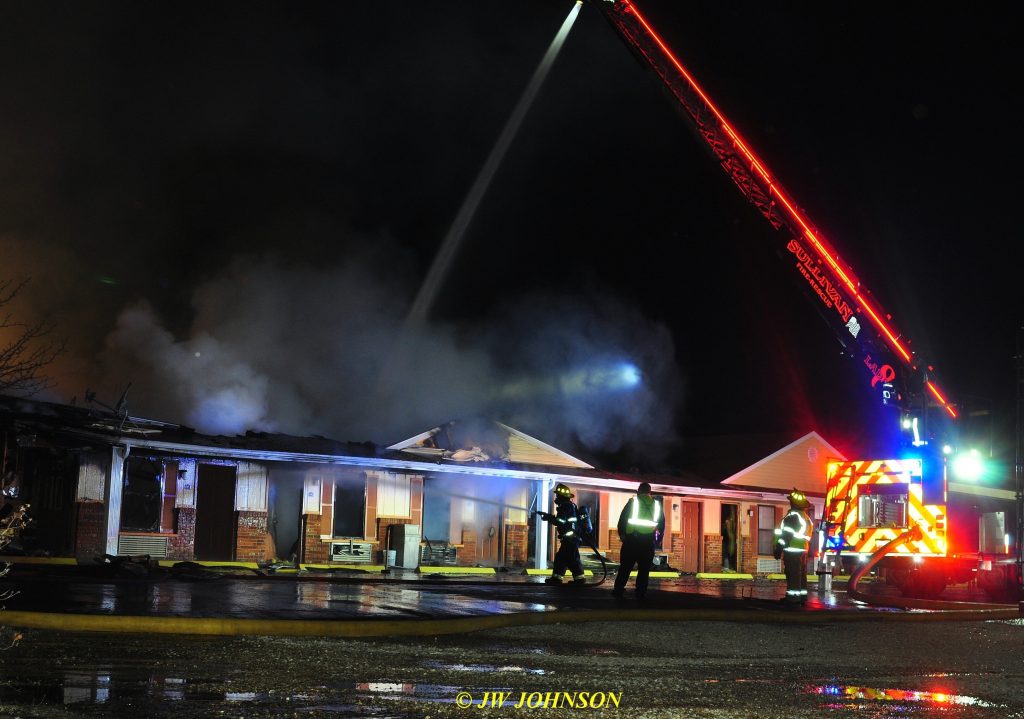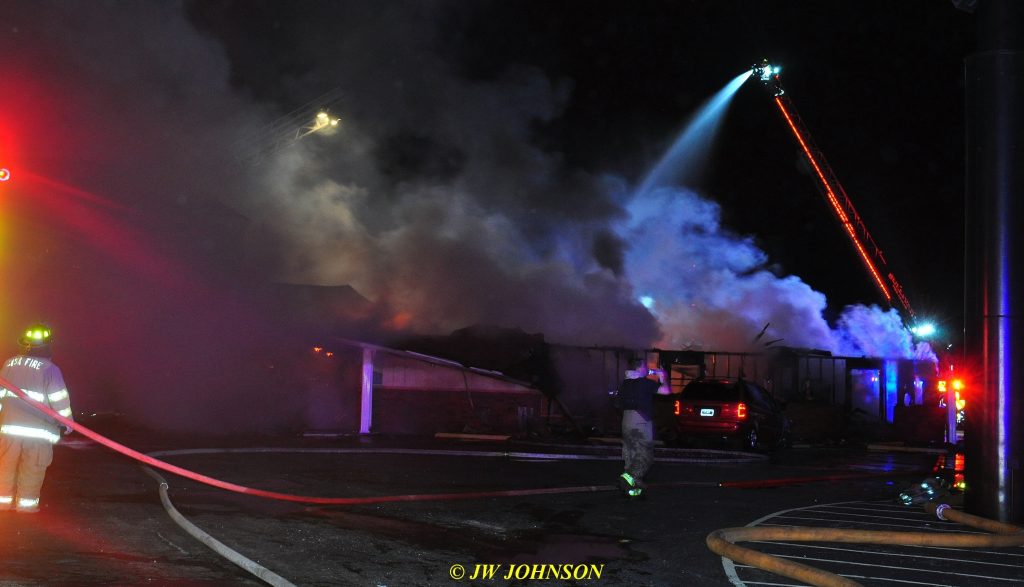 I took a few photos with my new camera, which is a backup for me….
the next couple of photos show something I rarely get to see anymore…Captain Dave Konys on the nozzle…. bet he thinks the same thing…good to see him get a turn on it and get to spray some water for once…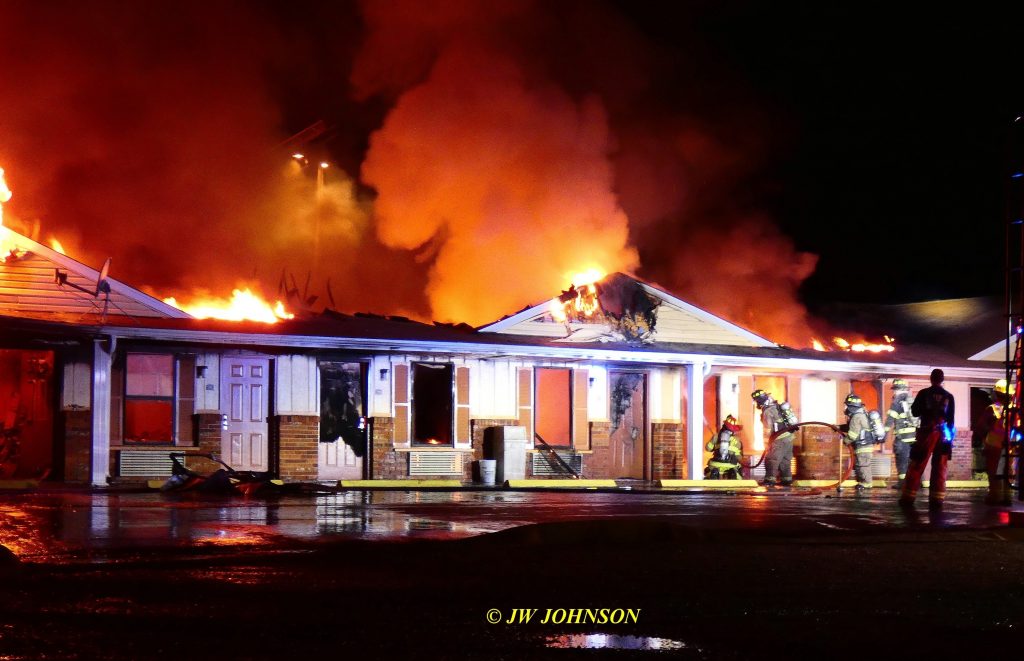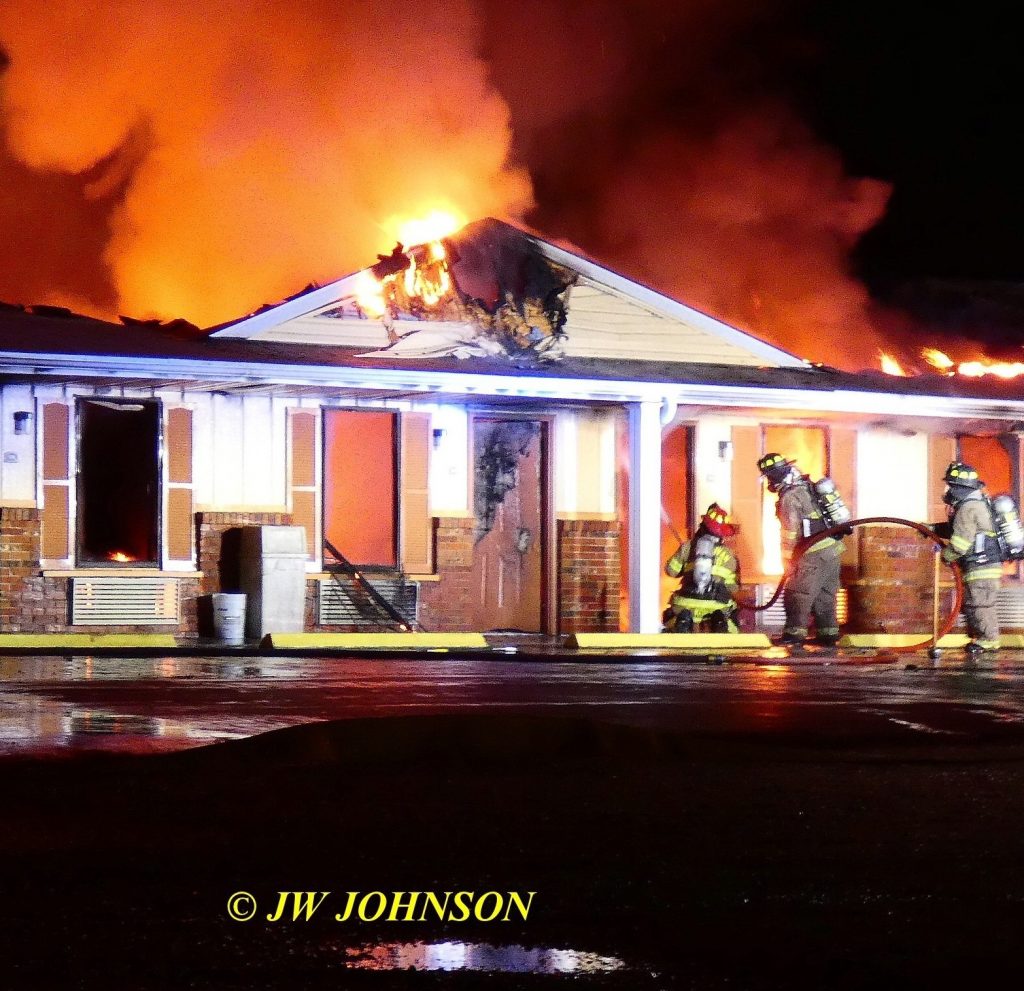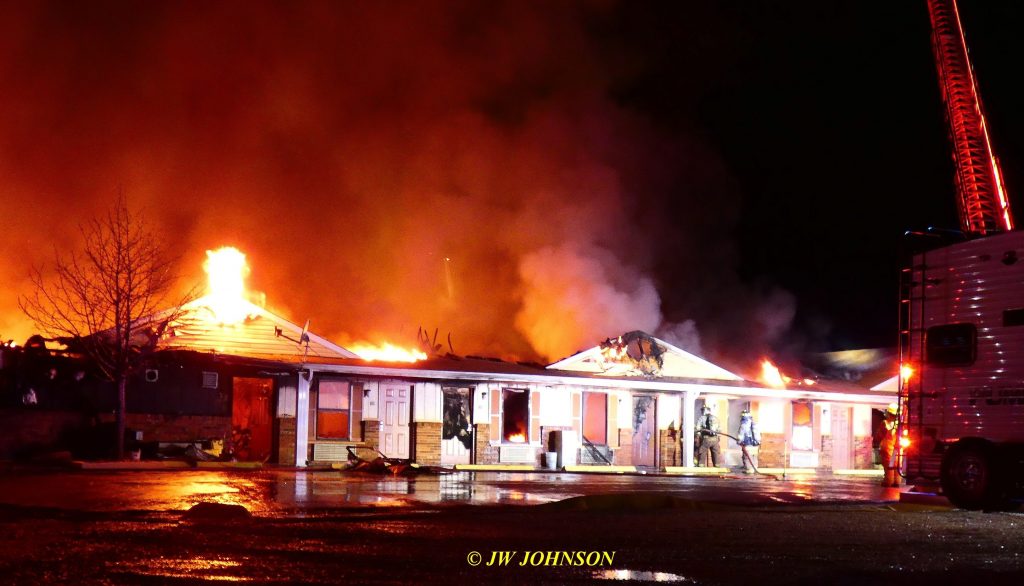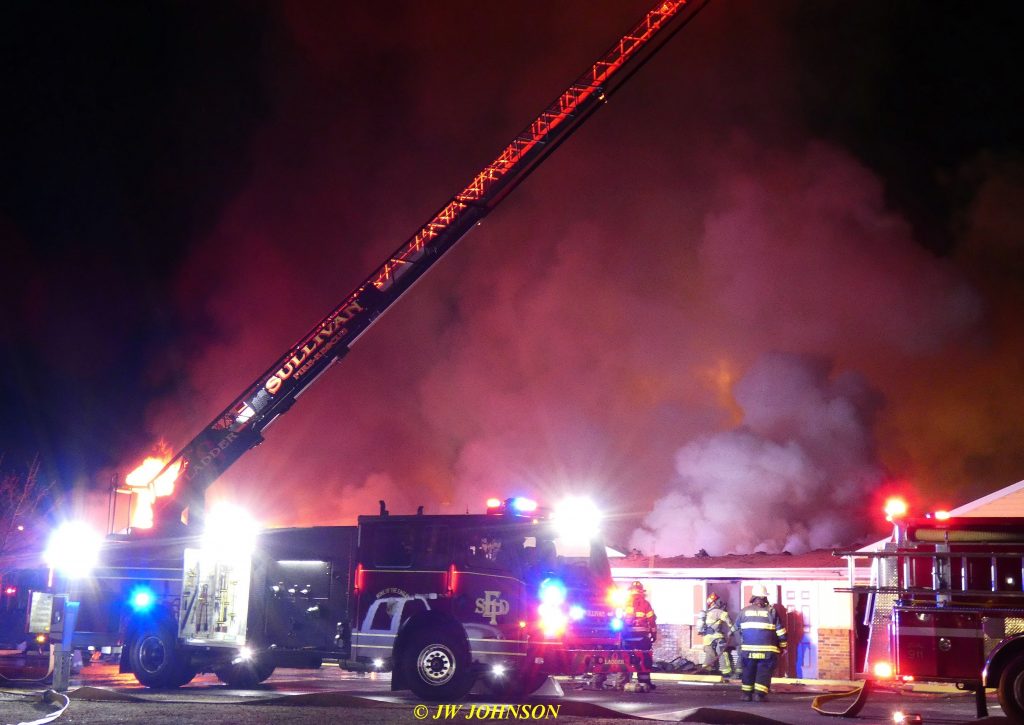 I left about 9:45 pm, about the time they had the fire under control and were likely starting to overhaul and mop up. I heard Pumper 814 back in quarters around 11:30 pm, not sure when 852 came home, there was a lot of hoselines to roll up on scene, including large diameter supply lines. Looked like a great job by all on scene, hope they got a good nights rest afterward.