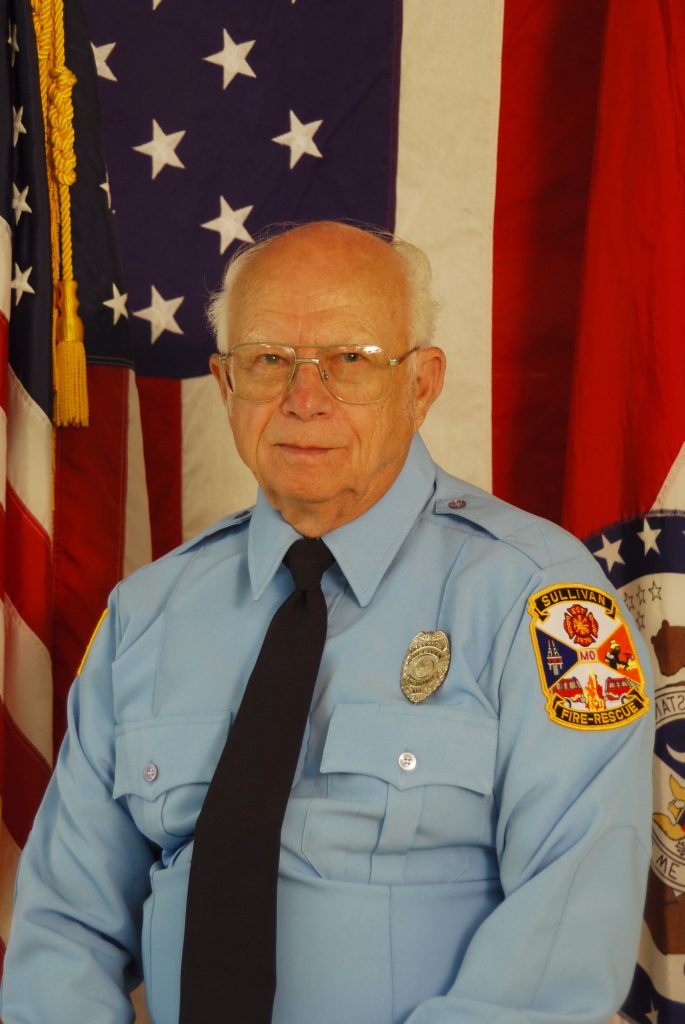 I was cleaning out the bed of my truck shortly after getting back from having supper with Mom at Cracker Barrel Friday evening, June 10th, when Mom called and asked me to respond…she had just returned home and found Dad outside, he collapsed in their front yard. She was extremely distraught and asked me to notify EMS as well. I closed up my truck bed and drove out there in record time, calling Sullivan PD for an ambulance dispatch and then calling Jimmy at Sullivan Fire Department`s Station Five to ask for FD response as well. Jimmy told me that they would be there as soon as possible and they did arrive just minutes after I did. I pulled in to the driveway on the right side and saw Mom kneeling down by my Dad, he was laying face down in the grass by the carport. I ran over and asked Mom if he was breathing, she had checked him for a heart beat but could not tell for sure and was unable to move him, so I rolled him over and checked his pulse immediately…not feeling one, I looked to see if he was breathing, saw that he had facial injuries from the fall…I did not see his chest rising either, nor could I feel a heartbeat either. I completed a finger sweep of his mouth, pulling out a wad of tobacco, but unable to remove all the tobacco juice that was there as well. I noticed his arms and hands had turned blue and purple, which indicated to me, from prior training,  that he had been down and gone for some time. 
It was at that time that one of my friends, Doug Garner, who is a deputy with Franklin County, pulled into the driveway and came over to help…he checked his pulse as well and thinking he might have felt one, he started CPR…I asked Doug if he wanted me to help him with it…he told me to sit back and relax, which I did…I did call his dispatcher at Franklin County to let them know that he was there, just outside his jurisdiction because they were trying to reach him by radio, they also advised fire and ems that CPR was in progress…..and then I felt myself slipping off into semi shock as I just sat there and watched Doug perform chest compressions…. on…. my….. Dad….Jimmy and Cody arrived soon after in the brush truck…we heard the ambulance go by on the road below, missing the turn off. Jimmy took over the chest compressions from Doug and Cody started setting up an airway…a minute later the ambulance returned, made the turn into the subdivision and then into the driveway…I directed them to park next to the garage. Many neighbors as well as longtime friends Jack and Ann Cuneio showed up then……Pumper 854 with extra personnel arrived then as medics quickly hooked up the monitor to Dad and set it to auto shock, however it did not shock Dad because there were no signs of life at all on the monitor, they completed the airway after utilizing a small cannister to vacuum the tobacco juice from his mouth….the medics then asked if Dad had a DNR…he did but I was not aware of it so I said no and they continued to work him with CPR…the juniors and firefighters grabbed the stretcher and backboard…. they packaged him…. loaded him into the ambulance…. and transported him to MoBap in Sullivan. Doug told us he would remain and wait for the Crawford County deputy to arrive and told us to go on to the hospital. 
Neighbors Jerry and Patty, and Jack and Ann followed Mom and I to the hospital and stayed with us in the waiting room. My sister Jo Ann and brother-in-law Brad showed up about ten minutes later and we waited for someone from the ER to come talk to us. Mom called her after she called me earlier at the house. I texted a few close friends to let them know while waiting.
After about a twenty minute wait, we were escorted to a waiting room in the ER and Dr Draper and a few nurses soon joined us there, to let us know that they were unable to revive Dad. Dr Draper assured us that from his many years of ER and general MD experience, he was sure that Dad suffered a massive heart attack….possibly from a blood clot since he was prone to that having suffered from vascular dementia for the past few years… as he was walking out of the garage, and that as he was falling, he had the presence of mind to put his hands out to break his fall, but Dr Draper was positive that he was gone before striking the ground and felt no pain from it. While Jo Ann, Brad, and Mom went into the other room to see Dad, I completed paperwork for the ER Staff and talked to the Crawford County Deputy who arrived after going to the house first. During and after that, Jo Ann and I made several calls, letting our relatives know what happened to Dad….that took some time to do….medical staff was very understanding and patient with us, and even assigned a very nice security officer to stay right there with us while we were there. 
We felt very fortunate to have Dr Draper there, a good old fashioned American doctor with years of experience and a very good bedside manner, to talk to us and take care of us while we were there…I say that because in visits there in months and years past, we were not always so fortunate, many times could not even understand the doctor on duty there, nor could many of them understand us. 
We advised medical staff of our wishes regarding the funeral home we would be making arrangements with, and Dr Draper was nice enough to contact the Coroner and expedite things for us. We said our goodbyes to Dad and returned to the house with Mom to make some decisions on the days ahead.  We contacted Nancy Russell of Russell Funeral Home in St Clair and made an appointment to meet with her the next day in the afternoon to make the arrangements. I let Mom know that I needed to drive down to the Park Hills Rock Show the next morning early to meet some friends there that wanted to go rockhunting later that day…I had arranged to do so a week prior and there were some folks that would be at the show that I would not see again for a year. Mom understood…I left Onyx with her that night and Jo Ann stayed the night as well. I called my good friend Ronnie Cottrell, who is a board member of Sullivan Fire District, and let him know that Dad had passed and my family was requesting a traditional fire department funeral with full honors…he told me that the department and district would be honored to help us in any way possible to make that happen.
I drove down early the next morning and met with my friends who wanted to take their kids rockhunting that afternoon, and gave them directions on how to reach a prime spot to find some very pretty quartz crystals. After visiting with a few other friends there, I headed home by 11:30 am and arrived back home an hour later. I know Dad would have understood why I had to do this, too…after all, he and Mom got me started collecting rocks and minerals about 49 years ago and watched me expand from simply collecting and building my own collection to helping many others to collect and build theirs, from younger generations to older generations.
After cleaning up a bit, Mom and Jo Ann picked me up and we drove down to meet Nancy Russell and her staff at the Russell Colonial Funeral Home in St Clair. Nancy was great to work with, could tell she was a stickler for detail and while it took some time to go through this process, she really made it worthwhile to do so instead of something that you dreaded doing. Mom and I had actually talked with Dad in the past several months about his wishes for his funeral service…due to his many years of active service to the fire district and fire department, he wanted full honors and a traditional service with bagpipers if possible. We relayed this information to Nancy and she was able to help us put it together very well, having connections to bagpipers as did I…she was able to contact her piper, Chris Capps, and put him on standby for us and she knew one of my piper friends, Jason Hildebrandt, as well. We selected a pretty royal blue casket with silver trim to go with Dad`s Fire Department Dress Uniform, selected a special panel insert of a US Flag with a maltese cross in the middle of it, selected other accessories and cards and services, and then set the visitation for Tuesday and the service for Wednesday. After making all the arrangements with Nancy, we were driving back to Sullivan to meet with Greg Morrow…who was very nice to work with…. to make even more selections at the cemetery, this time outside in the heat. An hour later we were finished, as well as mentally drained and physically exhausted, and drove back to Mom and Dads house to get something to eat. Brad had stayed at the house while we were gone, taking care of Onyx and meeting folks who had come to the house to visit and bring food…and wow, had people brought food…both refrigerators were completely full of food and we had word that even more was on its way. After a small meal, Onyx and I headed home to update Patty, my supervisor at work and Ronnie on the funeral details. It was also Dads wish that his casket be carried from the church to the cemetery on the 1941 GMC Central Pumper, which Dad and I had purchased 30 years ago after I researched and located it…we sold it to the Fire District on the condition that the District restore it and utilize it for parades and firefighter funerals. Funds had been donated back then to pay for restoration and while the cosmetic appearance of the truck had been restored for the most part, the truck was never mechanically restored by the district board, and the truck was never used in even one parade or funeral. This was the truck Dad first learned to drive when he joined the Fire department in 1959…Ronnie told me that he would see about getting the truck ready for Dads funeral on Wednesday morning. 
On Sunday, I took some folks rock hunting down in Eminence, a trip I had arranged weeks before. Travis, a friend from Tennessee and his two boys, and some friends from Paducah, met Onyx and I at the main intersection in downtown Eminence and we drove over to the quarry closeby. We spent the next four hours in hot and humid conditions…collecting some pretty crystals and minerals there, before all of us headed home in different directions. After arriving home and cleaning up a bit, I grabbed my weedeater and we drove out to Mom and Dads house….visited with my nephew Zach, and nieces Sarah and Courtney a bit, got a bite to eat and then began weedeating outside. Earlier in the day, neighbor Jerry Wellington had mowed much of the yard and Brad helped him out. It was still very warm that evening and despite drinking alot of water, I still overheated a bit and stopped early…Mom and Jo Ann came outside and helped me cool down with a cold wet towel and Jo Ann splashed a bottle of water in my face…believe me that woke me up real quickly…and soon after I was able to catch my breath and began cooling down. Onyx and I headed home soon afterward. Good friends Connie and Howard Henson stopped by while I was weedeating and brought some good pulled pork and rice to us. I checked with Patty when I got home and she had me scheduled off on leave for Monday and Tuesday nights, and let me know that if we needed anything at all, to let her know..she said everyone at work was thinking of us and praying for us. Nick White with the Sullivan Fire Department Honor Guard,  contacted me on my FB page and told me that he had firefighters lined up for Honor Guard positions for Tuesday and Wednesday both. 
After a long day, Onyx and I retired to bed early but then woke up early on Monday morning as well…..Mom, Jo Ann, and I drove up to Watson`s Florist at 9 am to meet with Terry and Kaye to make our flower selections for the casket piece and a wreath as well, asking the girls to include some firefighter statues and a fire truck statue in the casket piece. From there, we drove down to the main fire station to talk to Chief Eric Lewis, who had just been hired two months prior and who Mom and Dad had just met two weeks prior at Cran Spindlers 50th Anniversary Party at Station Five. We discussed our plans for the funeral and visitation with him and he promised to help us bring it all together, pledging the full assistance of the fire department to honor Dads wishes. He told us that there were mechanics from a local garage down at Station Two checking the 1941 pumper at that time to make sure it was ready to carry Dads casket and he would keep us updated on all the details. I returned home and decided after the full day I had on Sunday, that I would simply take it easy today and rest up as much as possible. I stayed in contact with Chief Eric throughout the day as well as Nick and many relatives who were planning to make the trip up there on Tuesday. It really seemed as though the day moved in slow motion, however I was able to get a pretty good nap in about mid afternoon. My sleep schedule was definitely off by then.
Tuesday morning came bright and early once again…Mom and Dad have been early risers for the past several years and I was beginning to think they had passed that on to me now. I knew I was going to have a long day ahead of me, here I was up at 5 am, so I decided to try to get back to sleep by 9 am and sleep a couple hours and then I should be fine. By 8:45 am, after fielding several phone calls regarding the 1941 truck`s current mechanical state…not good…and then a call from Nancy, who had maintained steady contact with us on attention to detail on every aspect of the visitation and services. I had a quick lunch late morning and then started getting ready for the family hour at the church and visitation for the next several hours after that. I arrived at the church by 12:30 pm and found the firefighters placing Pumper 854, which had been dedicated to Dad during his 50th anniversary party in 2012, and Ladder Truck 852, which would display a huge US Flag over the street in front of the church all day and evening. Both trucks were committed to the services both days…..today was Flag Day…Dad had served in the US Air Force during the rebuilding of France after WWII and here was one of the prettiest of flags flying that day in front of the church to honor Dad and his 57 years of service to the Fire Department, Fire District, Community, and Country…..
Mom asked me to bring my firefighter statues to set up on the stage with the flower arrangements and some large portraits of Dad as well. We were very impressed with the flowers that had been brought to the church and set up and we added the statues and photos that we had brought with us. Nancy and her staff did a wonderful job of bringing it all together and everything looked just great. Jo Ann, Zach, Court, and Sarah had assembled several photos in a revolving display that would play all day and evening of the visitation service. I am sure Dad would have loved it all…..
We actually opened the doors to the public sooner than scheduled and folks began trickling in all afternoon…we scheduled a long visitation so that we could actually visit with the folks that showed up…there were many that came throughout the day. The Fire Department`s Honor Guard started standing their post shortly before friends began showing up and were vigilant all afternoon and evening. They did a great job !!
Several ladies from church prepared and served sandwiches, fruit, and drinks downstairs for family and friends all afternoon and evening, they were a great support to us all. Several of the remaining agents of American Family that had worked during the years that Dad and Mom were the local agents, came to visit along with their wives, and many of our relatives from Arkansas were driving up that day and arrived later in the evening. Later that evening, the Sullivan Fire District conducted a walk through service, led by Chief Lewis and Ronnie Cottrell, stopping to visit with Mom and assure us that they were here for us no matter what. After all the years of service that Dad gave to the Department and the District, they certainly went above and beyond the call of duty to help us with all of our requests and Dad`s wishes for his ceremony.
On Wednesday morning, the visitation resumed at 9 am, the Honor Guard was once again in place at their posts when I arrived at 8:30, and firefighters were again placing the Ladder Truck and setting up the flag display out in front of the church. I had asked a couple of good friends, Rolla Photographer Brad Rupert, and Jim Bartle with Sullivan Independent News, to photograph and video the services for us, so that Mom could complete the photo albums she had started putting together for Dad, Jo Ann, and me. I met with both of them and let them know how the services would proceed and let them know that we would like photos taken of everything. We are, and have always been, a photo oriented family, and the work that Mom has put into those albums greatly reflects that. Brad took some great images of the service inside the church while Jim shot video of everything. Here you see the Honor Guard changing posts during the visitation service that morning….
…after that, I asked Brad to be sure to get some good images of the trucks outside, especially the Ladder Truck and huge flag hanging off the ladder….
…then back inside to photograph more of the visitation and the Honor Guard…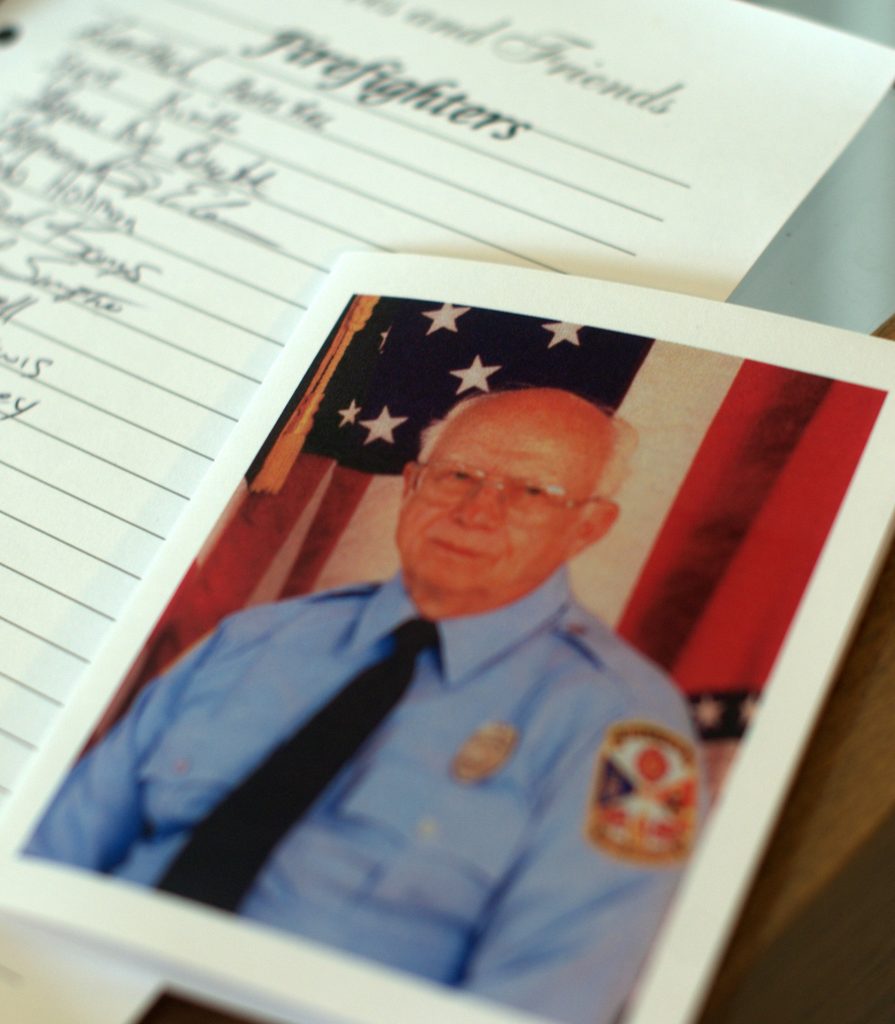 …right before the service started with the firefighters led in by my good friend, Bagpiper Jason Hildebrandt….playing Amazing Grace….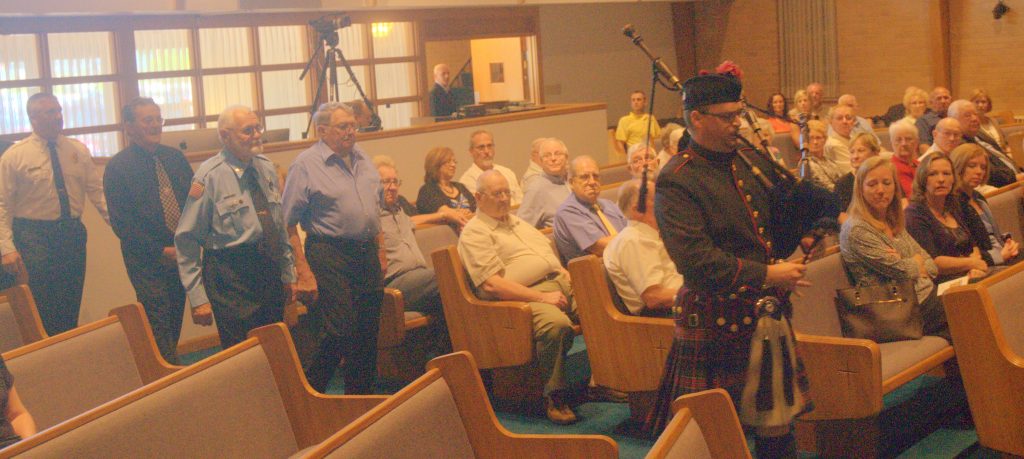 …Jason continued to the back of the church while the firefighters filled the first few pews on the left side of the sanctuary and the service then began with a word of prayer and scripture from Brother Bill Miller, former pastor at Temple Baptist Church and good friend of our family…Bill is truly one of the good shepherds who tends to his local lambs as well as his extended lambs like us. We were fortunate that he was available to come preside over Dads funeral, and he took care of us throughout the services and afterward as well, as a good pastor should do.  
I then spent a few minutes reflecting back over Dads life from the time he was born to his retirement. He was born and initially raised in Arkansas, just a hop, skip, and a jump from where Mom was born and raised, both on farms about ten miles west of Waldron, and close to the Oklahoma line. He went to school with Moms older sisters and brother and they all became good friends. Later in his youth he moved to the Sullivan area, raised from there on by his Grandparents, Alex and Willie Johnson, first in the Anaconda area where they lived next to the railroad tracks. Dad told me that Grandpa worked for Missouri Pacific Railroad and the steam train would pick him up, suitcase and all, early each Monday morning and transport him to his job in Indiana or Ohio and then each Friday evening, drop him off in front of his house again. Dad said they later moved into Sullivan and lived a few blocks west of the Harney Mansion. Dad told me that he often helped cut firewood for the stove, and back in those days Grandpa used a huge crosscut saw, which required backbreaking work from at least two people, one on each side working the handles to run the jagged metal blade back and forth across the logs and cut them into splittable sizes. Splitting then required the use of a heavy axe and even more backbreaking hard work. He said Grandpa often yelled at him when he felt Dad was slacking off and not pulling his fair share of the weight on the saw, telling him " You`re riding the saw " over and over. Dad and Mom were raised old school, taught the virtues of honesty, dependability, reliability, respect for others, minding your elders, discipline, and hard work. Later in our lives, my sister Jo Ann and I were raised old school too and through out my life, I have come to respect and like old school as well.
Dad attended Sullivan Schools, played on the basketball teams in high shoot, under the watchful eye of Coach Norman Shortt, who was from the Warrensburg, Missouri area…I later attended college there at Central Missouri State University and came to know Coach Shortt who taught there and managed the professional golf course owned by the college there. I had many classes with Coach Shortt and came to admire and like him a lot, as my Dad had when he was playing basketball for him. Dad graduated from Sullivan High School and enlisted in the U.S. Air Force, receiving his training in Tennessee and was then deployed to an air base an hour east of Paris, France, where he spent the next three and a half years in military transports helping the United States rebuild France from the destruction and toll that WWI and WWII had taken on the country.
After faithfully serving his country, he returned to Sullivan and kicked around from job to job for a few years. He met Bill and Vi Green, and established what turned out to be a long lasting friendship with them…Bill not only helped him land a job with Complete Auto, but also talked him into joining the Sullivan Fire Department in 1959, the same year he married Mom. Dads training in military transports helped him succeed in his work with Complete, which entailed transporting new Chevrolet cars and trucks to auto dealerships all over the Midwest and Southeast, his route mainly covered Missouri, Mississippi, and Arkansas.  He told me that one evening in December, he was driving his auto transport truck and trailer into the city of Nashville, Arkansas, with a full load of cars and trucks, and the dealership was at the end of the main drag, Highway 27, and as he drove down the road, he noticed the strands of multicolored light bulbs, Christmas decorations, hanging across the road from the light posts…pretty soon, he looked back in his mirrors and also noticed that due to the height of his transport truck and the pickup trucks he was hauling to the dealership there, he had snagged and damaged many of those strands of lights, they were popping and exploding as they were pulled up and wrapped around the bumper of the pickup truck on the trailer above his cab. He came to a stop as soon as he could find a place to pull over and the police chief pulled up right behind him and promptly took him into custody. Somehow the Chevrolet Dealer was contacted and he responded to the courthouse to take Dads defense and was able to talk the judge out of any charges against Dad over the ordeal. Dad asked him later how he was able to talk them out of fining him, and he told Dad that not only was he related to the City Judge, he had also " told those fools that they had strung those wires and lights too low across the highway and someone would come along and prove him right ", and sure enough Dad did just that.
In 1959, the Sullivan Fire Department was located in the basement of City Hall, where the police department used to be located and where the citys engineering department is now located. The department housed four trucks there in three bays, the first bay held the 1941 GMC Central Pumper and behind it was the 1929 General Open Cab Pumper, the second and third bays each held one of the Chevrolet Towers Pumpers, affectionately known as the " Twins " because even though they were a few years apart in age, they looked exactly the same….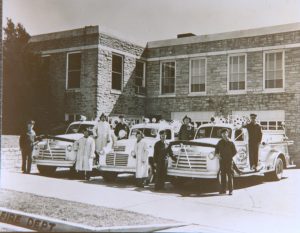 Dad started out learning to drive the 41 Central Pumper but really enjoyed driving the Twins because they were built lower to the ground and handled the curves and hills better, especially if he was driving down through the Meramac State Park.
Mom and Dad moved to Jackson, Mississippi due to his employment with Complete in 1960 shortly after I was born, and we spent my first year living down there…we lived in a predominantly black neighborhood and Mom said our neighbors were not only good hard working folks but good neighbors too. Before moving down there, Mom and Dad started making payments on the house on Vine Street that Jo Ann and I grew up in, and while down there, they finished up the payments and we moved into it when we returned to Sullivan in 1962. By then Sullivan Fire Department had also moved to a newer building, the former Campbell Chevrolet Garage at Springfield Ave and Church Street, where the City Park Department is located now. This was a bigger building, Ernie Campbell was one of Sullivan Fire Departments Chiefs, and built this building while he owned the Chevrolet Dealership….the City of Sullivan purchased the building from him and split the building in half with a wall, separating the Street Department housed in the lower half where the body shop had been located, and the fire department housed in the upper half. Through the 60`s, Dad served the department in various roles and offices, working his way up to Captain by the late sixties. In 1964 Dad became an agent for American Family Insurance, and established his office at our residence on Vine Street. He had been refereeing basketball games for a few years with Paul Moosman, and Paul got him the job and became his District Supervisor as well. Dad told me several times that Paul Moosman was the best boss he ever had, and in many ways, a great role model for my Dad. 
In 1969, we were hosting a fish fry at our house on Vine Street and several good friends were in attendance, including City Marshal Jerry Umfleet, Mo State Trooper Oscar Armfield, and a few others…several of us kids noticed flames inside the home of next door neighbor Bill Greens home, and we ran to the garage to notify everyone of the house on fire. Dad and the other men in the garage ran to Bill`s house where Dad entered the kitchen through the door off the carport, and found a skillet of grease on fire, flames three feet high reaching toward the kitchen ceiling. Dad turned off the burner and looked for some baking soda to throw onto the fire, yet was unable to find that or anything else to extinguish the flames, so he grabbed several hand towels, wrapped them around the handle of the skillet, and carried it to the door…Oscar opened the door for him and Dad threw the skilled out to the carport…however in doing so, grease splashed up on to his hands and arms, and the breeze carried grease back to his upper arms and shoulders, immediately burning his skin severely. Oscar and Jerry immediately loaded him into the back of Oscars patrol car and rushed him to the Sullivan Community Hospital. Dr. Crawford, our family physician, performed skin grafts on him to repair the 2nd and 3rd degree burns and he remained in the hospital locally for several weeks, before he was able to come home to recover completely six months later. Mom learned how to change his dressings, which had to be done a few times daily, as well as take care of Jo Ann and I, and run the insurance office, with the help of Paul Moosman and a few area agents, who were there on a daily basis til Dad was back on his feet. Things were much different back in those days, companies and businesses actually cared about their employees much more then and would go the extra mile to help them out in times of need.
In the early seventies, there was serious talk of the fire department separating from the city and branching out on its own as a district, and in 1976, after a vote of the people with overwhelming support to do so, the Sullivan Fire Protection District was formed with a three man board overseeing things. The first board consisted of Bill Green as President, Ed Hardy as Vice President, and Roy Baldwin as Secretary/Treasurer. Ed stepped down as Chief and Jack Cuneio became the first District Fire Chief, elected by the firefighters still at that time, and Dad was elected Assistant Chief. Jack made some changes to the department, implementing the standard use of larger diameter hoselines when fighting structure fires and other serious fires from that time on, and also proposed that all Chiefs would serve a maximum term of office of two years, doing away with the long time serving Chiefs from years past, giving many other men the chance to serve as Chief.
Dad was elected Chief in 1978….here seen with his officers…..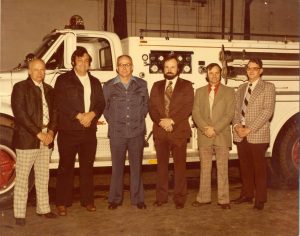 and made a few more changes to the department as well. He converted the older Junior Fireman program, where only relatives of firefighters could serve as junior firemen, to a newer program where any young men in good standing, between the ages of 14 and 18, could join the department and serve as junior firefighters. This opened the door to many young men to join the ranks of the fire department over the next several years,  providing a good source of backup assistance to the department when emergencies occurred during the daytime hours, when many vital firefighters were at work and unable to respond. Many of those young men who joined back then, are still serving on this department and others went on to become full time paid firefighters in other cities as well. Dad was a great role model to many of those young firefighters back then. Dad also was instrumental in working with the newly formed District board to obtain new rescue equipment, including the first Jaws of Life hydraulic rescue tool and other tools and equipment. He was able to obtain the services of instructors to come and teach the firefighters how to operate the tools to better effect rescues of trapped accident victims and many firefighters were in attendance at those trainings….
Dad also enlisted the help of Nick Sacco, who was serving as the paid Chief of Eureka Fire District then…Nick provided classroom instruction to the firefighters one night a week for several months, giving the department what would now be considered Firefighter I and II classes.
In 1980, when Dad`s term ended, he decided to run for a position on the Fire District Board, figuring he could do more good there than he was able to do as Chief. He won a seat on the board, replacing Ed Hardy, and working initially with Bill Green and Roy Baldwin, was able to help guide the fledgling fire district towards a brighter and more secure and safer future with better equipment, tools, trucks, and training…he went on to serve a total of 18 years on the board, many of those years as the President of the Board. Along with the other two members of the board, he was able to accomplish many things, including :
1980  — the purchase of land at 10 South Church Street to construct a new station
1981  —   Purchase of new pumper and new rescue truck from Towers.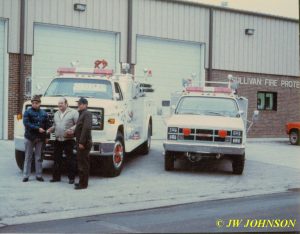 1981   —  Construction begun on Station One at 10 S. Church Street
1982   —  Station One Completed & Delivery of Rescue Truck & New Pumper
               Cleo Cline joined the Fire District Board
1983   —  Purchase of a new Jeep for Brush Fires & Donated AF Tanker that
                carried 5,000 gal of water, affectionately known as Mabel now gone
1984   —  Purchase of Top Kick Pumper from Towers, first pumper with 1,000 
               gallon booster tank. 
               Purchase of land for Station 2 and Station 3, Construction begun
               Purchased a truck chassis and retrofitted with a 3,000 gallon tank
               Windmill Fire went to several alarms, initial firefighters included Dad,
               Roy Baldwin who drove the Top Kick Pumper, Cran Spindler, Tom
               Henson and others…Mike Turner was Chief at that fire. One of the 
               largest fires in history of Dad`s Active Service on the Dept. 
1985  —   Began a new training program  — Appointed Me as Training Officer
               and over 1,000 hours of training were offered and provided in the 
               first 3 years of the program, classroom and hands on training 
                including live burn fire training in donated homes and buildings.
1986  —   Purchase of Smeal Pumper with five man cab, acquired from 
               Louisiana State Univ Fire Acad with 900 gal booster tank
1987  —   Approved construction of a 2 story Smoke House that was 
               built upstairs in Station One and was utilized heavily for many 
               years by firefighters and junior firefighters from all over the state. 
1988  —   Purchases of boat, diving gear, additional rescue tools 
Personal gear and breathing apparatus was updated and purchased for several yrs and outdated equipment donated to less fortunate departments as well. For several years Dad transported gear and equipment to smaller departments with little funds to purchase needed items in Howell and Texas County on his way to deer hunting camp each fall. 
1996  —   Purchase of Sutphen 75 foot Ladder Truck.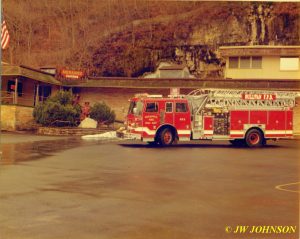 After a brief absence from the Board in 1998, Dad rejoined the board to complete the term of Kenny Gross who had to vacate his seat due to his employment. Many other stories could be told about Dads time on the fire department, many remember that he was a huge supporter of Smokey Bear and the Missouri Conservation Department…..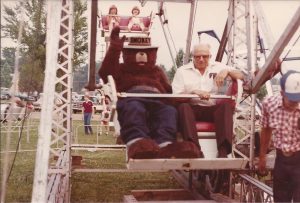 ….Dad was also an avid hunter and fisherman, so his support of such a fine program and his love of recreation just went hand in hand. Dad also liked to chew tobacco, and many on the department could tell you that if Dad was driving a fire truck to a call, one should obey the law and stay at least 300 feet behind it, otherwise you might get hit with a wad of tobacco when he leaned out the door going down the road, and spit it out, as he was prone to often do. I have many fond memories of my time on the department with Dad, many photos that will remind me of those memories as well and I am including some of them here…like the time that he got one of the brush jeeps stuck in the field behind the Wesleyan Church on Hwy H…I was there and so was the newspaper guy….
On Sunday, April 29th, 2012, the Sullivan Fire District honored Dad for over 50 years of service to the department and district, and dedicated Pumper 854 to him…the modern fire truck sitting outside in front of the church. On that day, Dad actually had accumulated 53 years of service to the department, their records were a little off. 
You can often tell how a person was raised by how they conduct themselves, and anyone that was around my parents, can tell they were raised the right way…
my Dad and Mom were raised old school…they believed in working hard, helping others in need, being nice to people, treating others with respect, listening to both sides of the story before making a decision, and discipline…my parents have been great role models for both Jo Ann and I, and for my nephew and nieces as well. When we were younger and growing up, we didnt understand or accept it, but as we grew older and branched out on our own, we came to see the world around us, often not liking the view, what we observed and heard around us, and we came to appreciate more and more the way our parents raised us. They never told us how to live…they lived and let us watch them do it. For many years, I have thanked God each and every day for my parents and the guidance and love they have given to me in my life. 
Dad took care of his firefighters and the citizens of the fire district equally, making things safer for firefighters and spending taxpayer dollars wisely….. and the citizens, firefighters, and visitors of the Sullivan Fire District were well served by his foresight, perseverance, and dedication.  
After I spoke, Glen Carter came forward and sang for us…Dad was a big fan of gospel music, he and Mom enjoyed listening to Glen sing in his quartet every chance they had, he has a great voice and a great heart. Brother Bill Miller then came forward and reminisced about his days at the helm of Temple Baptist Church several years ago, and how he and his wife Mary Beth and his boys Andrew and Nathaniel, came to know my Mom and Dad. One of Bill`s favorite stories is the one where he and Dad and Jack Cuneio were out cutting firewood in the forest, and how he accidentally dropped a tree down that narrowly missed hitting Dad as it fell…he looked at Dad afterward and seeing the withering look that Dad was giving him, he said he wisely looked away. He remembers telling my Mom later on, that had he accidentally killed Dad that day, he would have preached at his funeral service for free. We all still chuckle to this day and believe there were angels watching over Dad as well as Brother Bill that day.
 After the service ended and everyone filed outside the church, the fire department and Honor Guard, serving as pallbearers, gathered in the foyer as Mom, Jo Ann, Brad, Zach, Sarah, Courtney and I said our final goodbyes to Dad…knowing that he was now pain free and that we would one day see him again, made it much easier on us. We were totally surrounded by much love and support that day from family and friends, as well as our extended Fire Department, Church, and Work families.
We walked outside and waited with with our firefighter friends under the huge flag flying from the tip of the Ladder Truck…..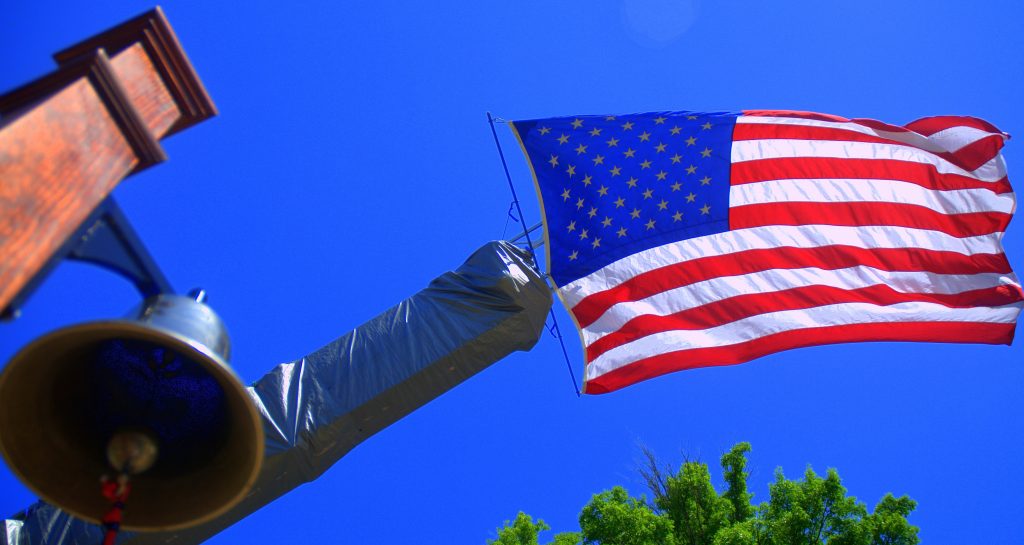 ….waiting for the Honor Guard to escort Dad`s casket outside the church, led by Bagpiper Jason Hildebrandt playing the Scottish ballad " Going Home "…..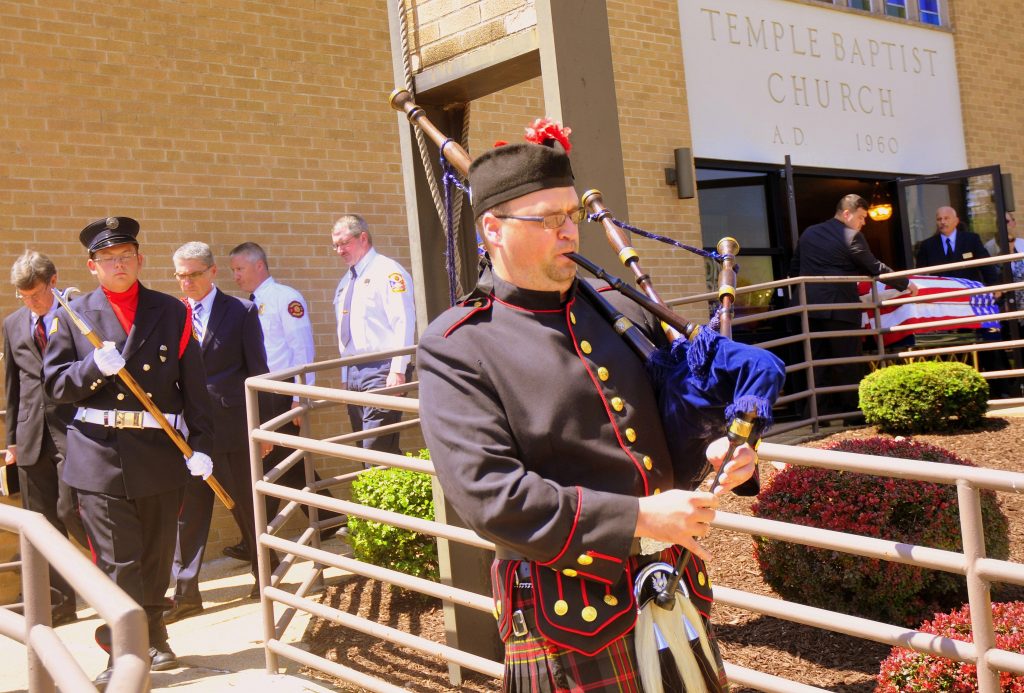 Dad`s casket was placed under the flag on the sidewalk for the Moment of Silence, Last Alarm, and Bell Ringing Ceremony….
…and then the Fire Department pallbearers and Honor Guard loaded the casket into the funeral coach….
…and then as we began the long procession to the IOOF Cemetery… we started off from the church, there were two small children in their front yard with their mother, the children were standing at attention and saluting as we all passed by…it was a very nice touch and very respectful from such a young pair….something I dont think I will ever forget and while many observed it with us, no one recorded it by photo or video either one. The procession proceeded down Main Street with Sullivan Police leading the way with a planned pause at Sullivan Fire Station One…
…the Sullivan Fire District accomodated our alternate request for immediate family members to ride to the cemetery in Pumper 854, which had been dedicated to Dad in 2012…since they were unable to accomodate our request to have the 1941 Central Pumper to carry the casket. Nick White was our driver, I was in the Captains seat in front with Nick, Mom was riding in one of the jumpseats behind me, along with my nephew Zach, and nieces Sarah and Courtney. The plan was to pause at the left turn on to Church Street next to Station One for a hand salute by the crew on standby there, however I dont believe any of us were prepared for the salute that we received and I think Dad would have been proud of the reception there….
…the Fire District had all the trucks pulled out on to the apron, Rescue Truck 816 blocked off Church Street traffic, another pumper was blocking off East Main Street, and every junior firefighter cadet was lined up in an L shaped formation, along with instructors and department support personnel, standing at attention and saluting as Dad`s casket passed by….it was a very nice salute !!  
Once we crossed over Springfield Avenue, again with assistance from Sullivan PD, we continued north on Church Street, stopping just short of the entrance to the cemetery`s old section, where we as immediate family planned to walk in behind the funeral coach with the firefighters walking with us, and another bagpiper, Chris Capps, leading us into the cemetery playing a Scottish tune. This was announced during the church services, however we do not believe everyone heard it…Nick stopped the pumper to allow us to exit the truck and wait for Jo Ann and Brad to join us at the entrance…the funeral coach came around and positioned at the entrance, and I met Chris at the entrance and let him know that we would like him to play " Going Home " as he led us to the graveside. As we were discussing this, we noticed that many of our extended family members were parking their cars and assembling near the entrance to join us in our walk into the cemetery…we were a bit concerned with some of our family members doing this in the hot and humid heat conditions…and the next thing we knew, everyone was joining us to walk in with us….
…as Chris led us in approach to the graveside…the military detail from the American Legion Post of Washington came to attention and saluted….
…and as family proceeded to the canopy shelter, the Honor Guard and pallbearers removed the casket from the funeral coach and carried it to the gravestand by the canopy….
…and then American Legion personnel performed the military service, consisting of a nine gun volley and playing of taps….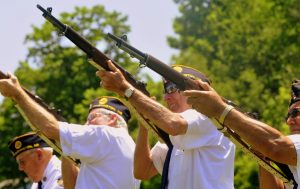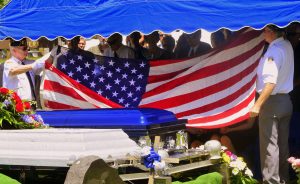 I want to thank everyone who came to honor my Dad and my family, and for all the prayers, thoughts, condolences, visits and food brought to the house in the past week…and for those who were there during visitation…this has been a long few weeks for us and words cannot express how much we appreciate you. Please continue to pray for us as we learn to adjust to our loss of his presence in our daily lives.  
Thanks to the American Legion Post from the local Washington area post, for the military salute and folding/presentation of the US Flag, which was supposed to have been performed by the US Air Force, however for whatever reasons, they forgot to show up and take care of this….they have since contacted us and will return to take care of this at a date of our choosing…we have decided to allow them to come out and perform this honor once we have the headstones in place, sometime this fall. We will try to let everyone know the date in advance.