Friday night, July 4th, I decided to set up on the West Overpass and hoped for light traffic, so I could shoot the fireworks show at the Fairgrounds. They were set to launch at 9:15 pm, and the timing was nearly perfect, the sunset faded just enough by then to actually give them good darkness. The altitude wasn`t nearly as high this year as it was last year, a few hundred feet lower it seemed like. Last year`s show trumped this year`s show by far, but I still managed to get some good shots and did see a few unusual looking bursts…not sure if they were planned out like that or just flukes, but some of them appeared to be half bursts instead of full bursts. I started out shooting the first few frames horizontally…..
…and as you can tell in the next few shots, the bursts finally did gain a bit more altitude, but still short of the two years before….
…and I believe the next image shows the only red, white, and blue colors I saw in the whole show….
…and here is one of those unusual bursts, half and half, not sure what happened to the rest of it, maybe it was supposed to give this effect….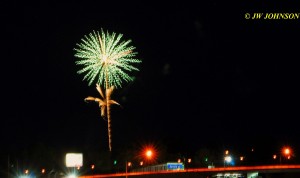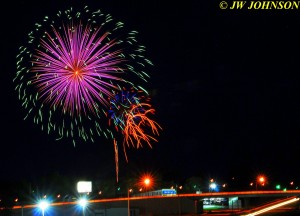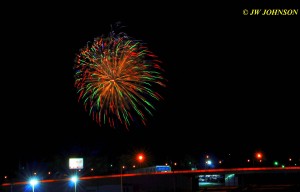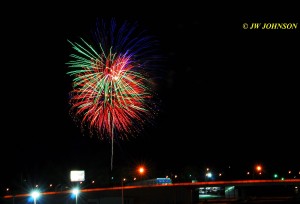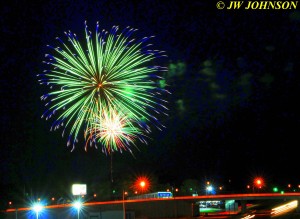 …and then from there on the bursts were the same colors like this next one…until the finale that lasted all of about five seconds…
..I normally can shoot about ten images during a finale, this time I was only able to capture two and a half….shortest finale I have ever seen in a fireworks show….not nearly as good as last year`s show, folks….I think someone got robbed….