I headed back to the condo, taking I-95 back north from Stuart, which is free and then turned on Hwy 192 which goes west back to Kissimmee from the Melbourne area. I should have considered the time of day I was returning and then maybe common sense would have taken over, but apparently I was too tired to do that. The first 25 miles were fine and I made good time, but boy, when I got close to Kissimmee, traffic light after traffic light popped up out of nowhere, and you couldnt drive any further than one to the next for the next fifteen miles and within a few miles, I hit the eastern edge of the city limits and traffic became bumper to bumper very fast. It took an hour and ten minutes to drive those last fifteen miles…I was so glad I didnt have anyone waiting on me, seemed like it took forever….hence why I keep telling everyone, you couldnt PAY me enough to live down there….if you think traffic is bad where you live or work, you should take a few days off and go down there…what a wake up call that was….
Decided to try another Chinese Restaurant and found one just down 192 west of the resort entrance that was very good, buffet style again and very reasonable prices and nice scenery again. Once back at the resort, I walked around and shot a few night reflections of the lakes and buildings…
..and one with the super moon out….
..the next morning, while walking over to the Town Center to check on my email again, I saw several hot air balloons flying from east to west….
..and they can be seen in the distance between the buildings here…
..I then drove over to a little town called Mims, where I met up with a gorgeous young red haired babe named Aspen…I was lucky enough to be able to work with her Sunday morning at the home of one of her friends…I was interested in photographing her at the beach, however she wasnt available and so I had to settle for the home…but as luck would have it, it turned out to be a very nice home and had excellent window light and features…
She answered the door in a glamorous purple dress and silver high heels…talk about legs…wow….
…if you like these images, wait til you see the rest….in another section yes….worked with Aspen for two hours and then we headed back to the condo suite for a much needed nap…this time I traveled the toll interstate and made very good time…learned my lesson….and once back at the condo suite, laid down on the nice soft leather couch in the living room and drifted off to sleep…twenty minutes later I was JARRED awake by a loud screeching noise coming from the back area of the building…I rolled off the couch and walked back to open the blinds and look out…to see a live band right behind my suite and set up for the pool area…didnt see hardly anyone around or inside the pool, but apparently they had to have a live band playing on a Sunday afternoon….just great….another good reason I wish I had been able to get the nice quiet building for my suite…so my best advice to anyone who decides to go to a Westgate Resort…is DEMAND a quiet suite in a quiet building, that is if you want peace and quiet as I did on my trip….
By 4 pm I was headed over to Sea World to meet up with my Mom and Dad, and my sister JoAnn`s family,  to attend the Polynesian Luau dinner there….Mom had made all the arrangements and we were to meet outside the gate at 5 pm…we all arrived in plenty of time, several of them had spent the day at SeaWorld taking in the shows and rides…while my Dad, Brad, and Zach went to watch the Atlanta Braves play spring training baseball at the Walt Disney World of Sports close to where I was staying.
While waiting for the gate to open, we had about twenty minutes to wait, I walked over and photographed the dolphins in rehab, in a giant blue swimming pool….
…these guys were quite cute to watch and photograph….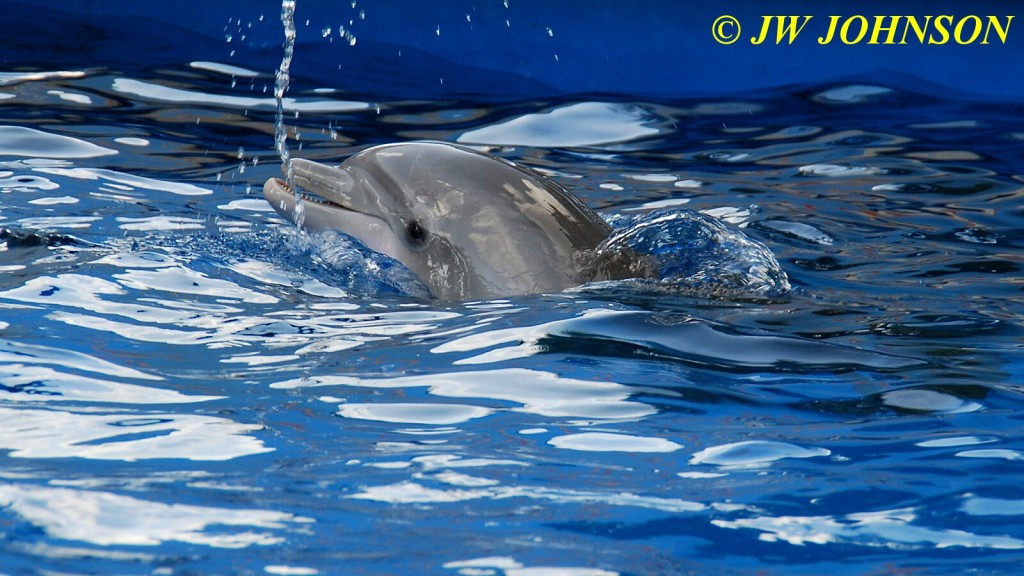 ..and some of the would simply swim by and look you over while others would practically stand up and smile at you. 🙂
..and they seem to swim in pairs sometimes too….
..and these two dolphins were quite neat to watch….
…and then I walked back over to the gate and shortly after, we were ushered through the gate toward the entrance door to the theatre…we were first greeted by a few of the performers who " leied " us….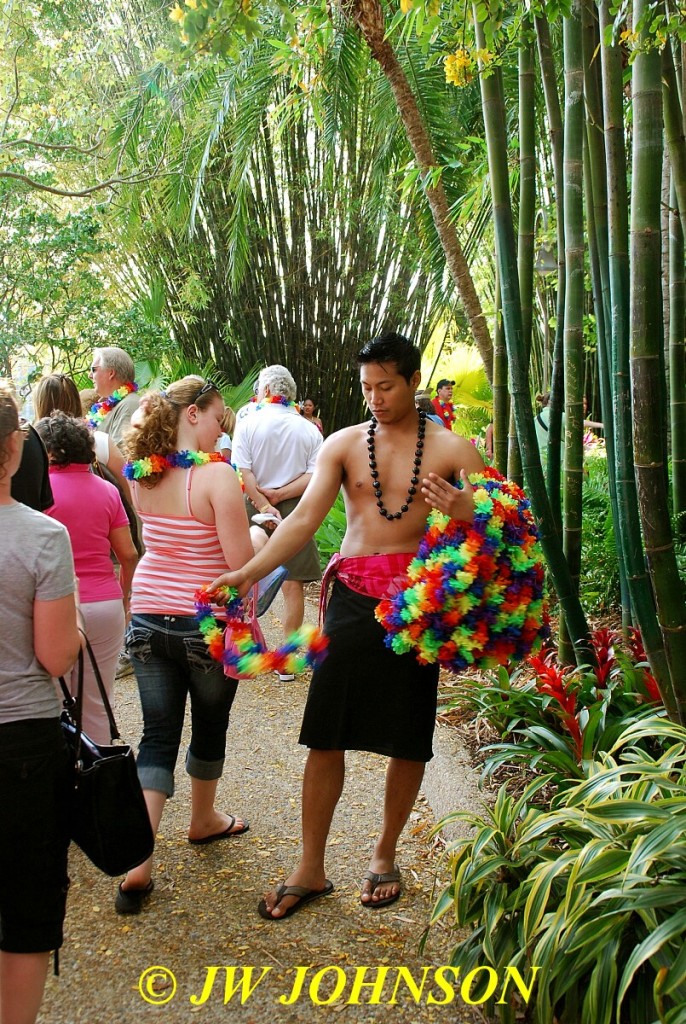 ..he was standing in some beautiful foliage and plants, backlit by the setting sun behind him…
..we were then led inside the theatre and seated at dinner tables…we were down in front near the stage and we didnt have to wait long to order our food and drinks, and the show began shortly after that….
..at the opening of the show, a few guys wander out on to the stage in colorful outfits and costumes, blowing into a large seashell to create a horn like signal…and the following images show you what we observed…a very good show to see if you are in the area…food was great and filling too….
..and a fire dancer came out and put on a great and safe show too….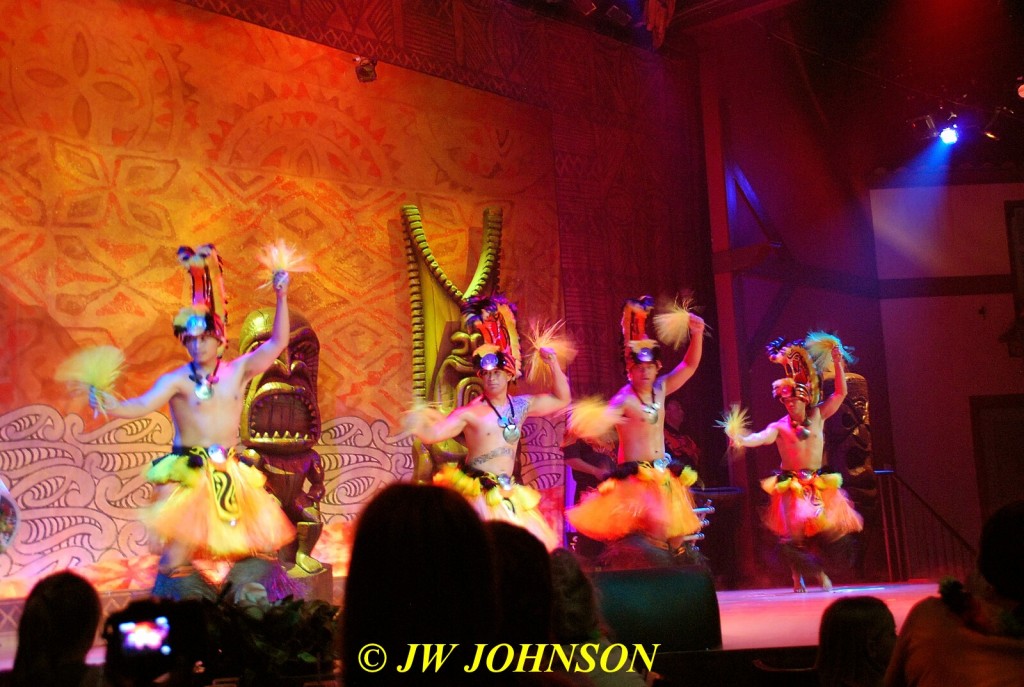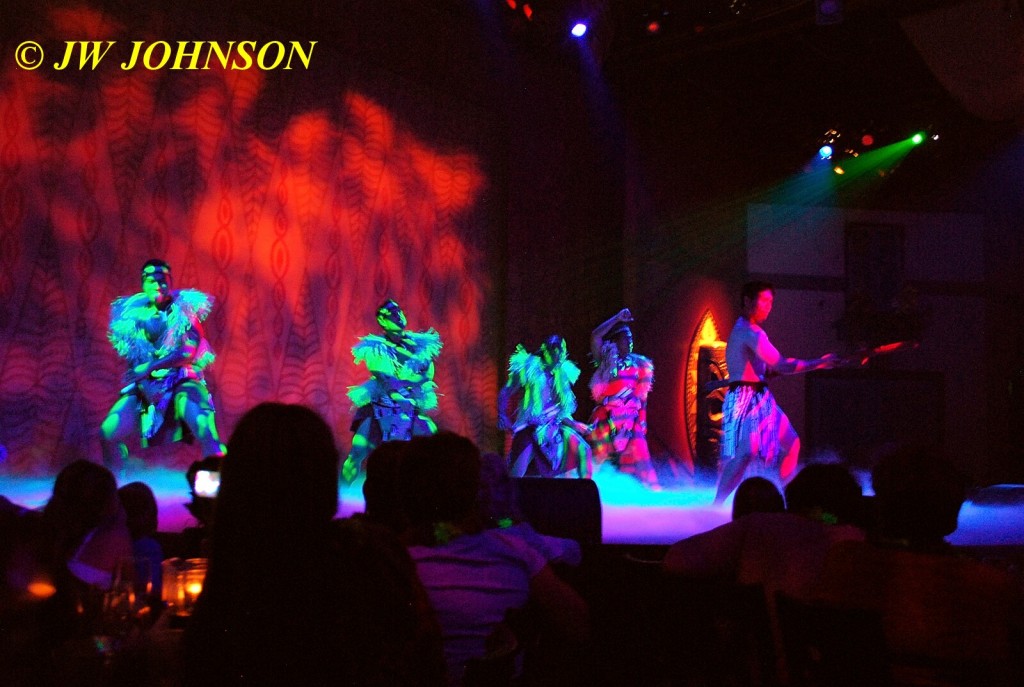 You get a wide variety of food and dancing and lights and sound show, a great way to spend two hours and educational as well.
Missy and I headed home early the next morning, taking off about 4:30 am…stopping at this rest area in southern Georgia to let Missy stretch her legs and I snapped this image of this pretty Spanish Moss laden tree there…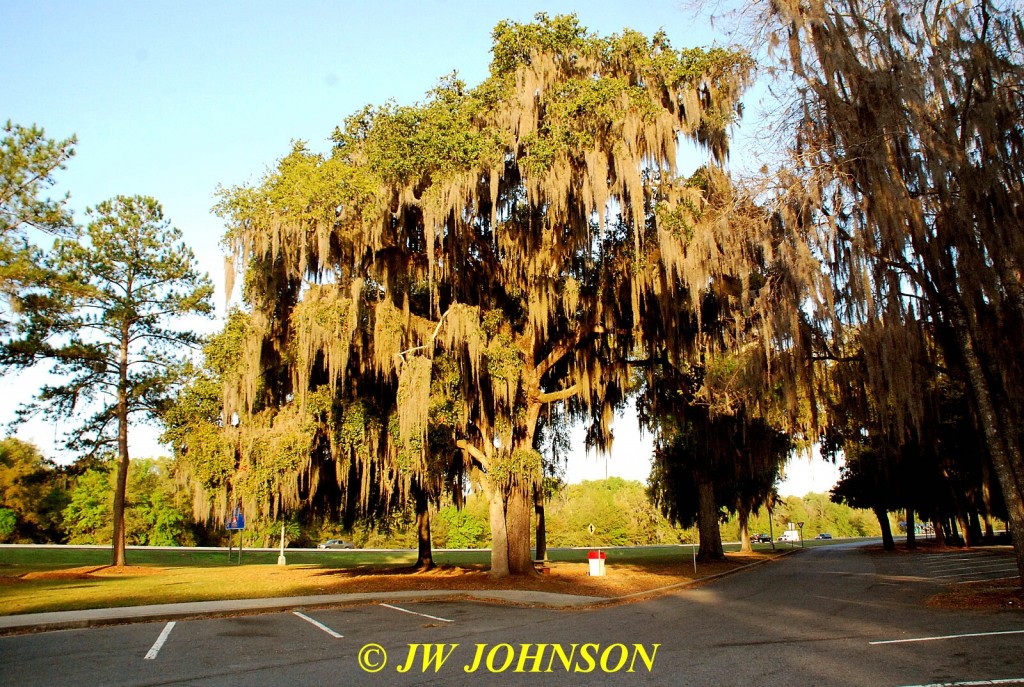 I thought I was going to have a shoot or two up in Illinois on the way home but the weather kind of nixed that…and originally I figured I would stop up near Nashville and spend the night, but as we got closer to Nashville, the weatherpeople were talking about thunderstorms to drive home in on Tuesday. I wasnt too tired and only six hours from home, and didnt really want to drive in thunderstorms, so I decided to drive on home and stayed on the interstate and up through Illinois and home. As we crossed the Poplar Street Bridge entering St Louis, I snapped this photo of the Arch and Riverfront, little shaky but I really liked it….
Sixteen hours and even got in early enough to have supper at Cracker Barrel. All in all though, it was a good trip, brought back about 300 lbs of beautiful rocks and crystals, and took about 2500 photos. My prayers were answered with good weather, safe travel, and great fun with family and friends for all involved….doesnt get any better than that.